Why 5G?
Wireless operators are being challenged as never before to add capacity and boost network performance to stay ahead of the competition on the fast-moving 5G deployment path.

5G is poised to deliver on the exciting promises of our connected world. It means 10 Gbps throughput, denser networks, super low latency. The potential and opportunity is unlimited. As a global leader in wireless network infrastructure solutions, CommScope knows there's no single approach to 5G and no one-size-fits-all 5G solution—and we have the resources and expertise to help position you for tomorrow.
The Drivers for 5G Adoption

Consumer demand
Subscribers are demanding more bandwidth as streaming video, augmented reality, gaming, and other bandwidth intensive services come to prominence

New business models
Mobile networks operators (MNOs) are seeking new ways to profit from their networks – and 5G opens up the capability to offer new applications and services

Limitless opportunities
A new generation of applications from the Internet of Things (IoT) to self-driving cares to virtual reality are, or soon will be, in use.
Solving Your 5G Challenges
Challenge: Cell Site Deployment Complexity
Mobile operators and OEMs are continually searching for ways to efficiently support frequency division duplexing (FDD) and time division duplexing (TDD) with multiple bands from a single antenna. Adding to the complexity is that, in less than 5 years, port counts have grown from less than 10 to easily above 30 on a single antenna. Considering this rapidly changing environment, it is understandable why operators have concerns about the risks of connection errors in the field.
Simplify cell site deployments
CommScope M-LOC cluster connector technology is designed to simplify 5G antenna-radio connections, while preventing connectivity errors. Watch this demonstration video to learn more.
Challenge: 5G, Fiber and the Future
The true promise of 5G is heavily dependent on a robust fiber infrastructure.
The fact is that many networks still feature legacy copper and wireless technology—which is no match for the formidable performance requirements of their customers. CommScope knows how to retrofit networks with the necessary fiber to get the job done.
Optimizing Network Performance for Your Outdoor CBRS Deployments
Webinar Replay
CommScope Engineering Fellow Martin Zimmerman addresses technical considerations and options for optimizing performance in your outdoor CBRS deployments.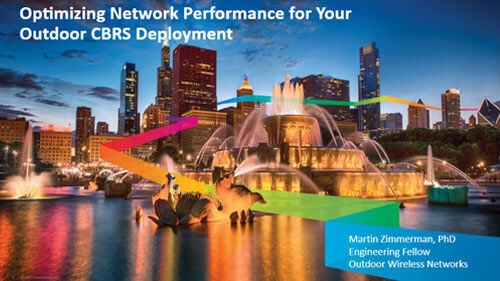 Explore 5G network solutions