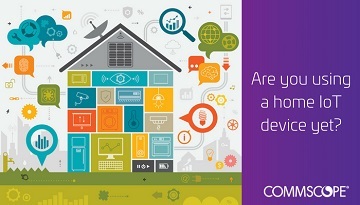 Well, it's been over a year since I reviewed my Google Home in this blog. This past Christmas, my sister got us one of the newest models, so now we have one upstairs and one downstairs. What do I think of this technology now? Let's revisit.
CLICK TO TWEET: CommScope's Melissa Strait wants to know how you are implementing IoT devices in your home.
In addition to gaining another Google Home, our family grew by one…and the oldest became quite a talker at just barely four. He can have Google "play" and "stop" music. He sometimes asks Google questions, but usually Google doesn't understand him or provide an answer. To be fair, the questions he asks show an imaginative flair that cannot be categorized in algorithms.
So, what do I use Google Home for now? I still set timers for cooking, and found they also work great for kiddo time-outs. I still listen to music. I discovered many radio stations are available, so I've happily added two local stations to the mix. I researched if I could use the two Google Homes as baby monitors, but that function is not available (hint, hint, Google and competitors).
For a busy working mom, Google Home does provide an extra set of "hands" for some basic items, but it isn't a revolution in the Internet of Things (IoT)...yet. Billions of IoT devices are being installed in homes and offices around the globe. All this growing data traffic will have a big impact on communication networks, and hopefully offer new capabilities to make home life better.
CommScope is ready to support IoT network evolution. Check out the best practices for IoT in our Smart Building Connectivity ebook. It contains tons of info on network technologies in buildings. You will see how much a connected and efficient data center and network could play a role in your "connected home."
How are you implementing IoT devices in your home?
Resources: