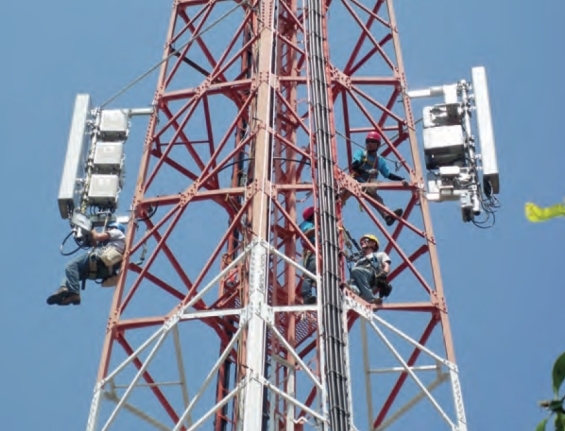 This blog post is part of a series called "CommScope Definitions" in which we will explain common terms in communications network infrastructure.
Advance warning: this blog post is for those of you who are interested in remote electrical tilt (RET) base station antennas, and it gets a little technical. But it is an important topic for antenna purchasers, especially if you are unaware of internal smart bias tees.
Remote electrical tilt (RET) is a unique base station antenna capability that CommScope invented more than 20 years ago. RET enables operators to make adjustments to their networks remotely by altering the direction of their antenna beams without having to climb up a cell tower and move the antennas physically. It all happens using electrical equipment, for which the Antenna Interface Standard Group (AISG) has established standards.
A smart bias tee is used to connect an AISG controller to antenna line devices (ALDs) using the feeder line to transmit the signal up the tower. The AISG controller is typically located at or near the base station. It can be hand-held, rack mounted or integrated into the base station. The ALDs are typically located near or at the antennas. They can be tower-mounted amplifiers, antenna RET motors or other RF path equipment.
One way to connect the controller to the ALDs is to use a separate data cable that runs from the controller to the ALDs. But this can add additional fees to tower leases, and many sites benefit from alternative approaches. Because today's base station radios have integrated AISG controllers, they can inject the AISG signal directly onto the main feeder line. This facilitates the use of smart bias tees at the top of the tower to make the link between the feeder line and ALDs.
An innovative way to implement the smart bias tee is to have it built directly into the antenna. Integrating the smart bias tee directly into the antenna port has several advantages:
In my opinion, it makes a lot of sense to utilize internal smart bias tees in base station antennas because of these benefits. What do you think? Have you tried using them? Were you aware of them?
Key Takeaway: In a remote electrical tilt (RET) system, an innovative way to implement a smart bias tee is to have it built directly into the antenna, which has several advantages.
Related Resources:
Article was originally published on October 14, 2016