Due to the high investment in new network infrastructure, mobile communications operators are tending to focus on operating costs (OPEX). The increasing number of cells and the parallel operation of different network technologies (GSM, UMTS, LTE) mean that the costs for operating and maintaining the network are also constantly rising. This trend is in stark contrast to stagnating turnovers caused by flat rates and falling call charges. The driving forces for turnover are now high-speed Internet, data services and media content.
Over the last decade, cell site architectures have been evolving from the legacy cell site architecture where large radios are located remote from the antennas, to an architecture wherein a separate RF portion of the radio can be located more closely to the antenna. This separation of the digital radio, BBU (Base Band Unit), from the analog radio, RRH (Remote Radio Head), allows for a reduction of the equipment foot print at the site and for a more efficient operation of the network. The next stage in the evolution of the site architecture is the actual integration of the radio into the antenna and the distribution of the radio functionality across the antenna elements. This is called an active antenna.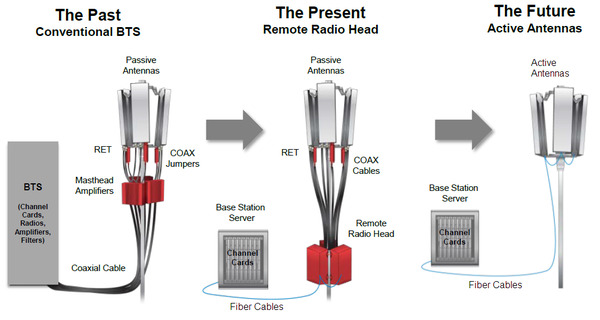 Conventional base systems use coaxial cables to transmit the high-frequency signal from the base station to the remote mast antenna. An advantage of remote radio systems is the use of optical fiber connections called FTTA (fiber-to-the-antenna) to link the RRH to the base station.
How can you best optimize your current infrastructure and adapt to these new technologies? What is the best method for adjusting existing tower components to meet new critical needs of deploying remote radio heads without overloading the tower? How do you ensure adequate fiber capacity that will enable you to grow beyond tomorrow while making sure CAPEX/OPEX costs don't spiral out of control in the process?
At CommScope, we believe that the solution begins with the basics: your transmission line cable system. It is the core component of your infrastructure. Laying the groundwork for what comes next starts with a fiber optic infrastructure specifically designed for distributed remote radio head deployments.
Interested to learn more? The SP6170 Fiber to the Antenna (FTTA) training course is a self paced online course that details fiber optic terminology, performance aspects, installation, testing and troubleshooting techniques and is available from the CommScope Infrastructure Academy.
Article was originally published on February 21, 2012