Carl Edwards' #19 car will feature special SURFboard® paint scheme in Charlotte, North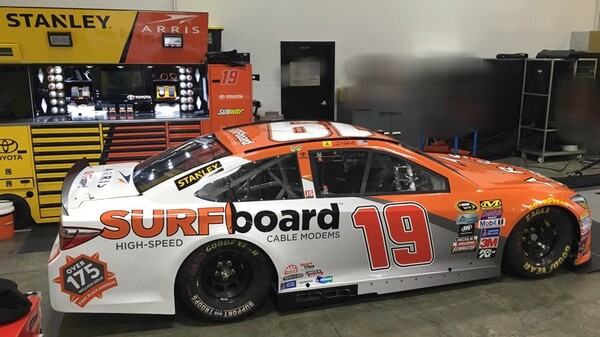 Carolina, this weekend.
At this weekend's NASCAR All-Star race in Charlotte, Carl Edwards' #19 car will feature the ARRIS SURFboard logo, driving awareness of who we are and what we do, focusing on our SURFboard products available at retail.
It's the perfect way to showcase our SURFboard High-speed Cable Modems and Routers that provide the fastest speeds available -- and the #1 selling brand of modems.
Check out Carl's promotional video for the new ARRIS SURFboard Home Networking devices with RipCurrent™ G.hn technology– plus video shoot outtakes with Carl and the #19 team.
We have exciting promotions planned for race fans, including Twitter giveaways, videos on ARRIS.com, and more. Plus, ARRIS will mark the Joe Gibbs Racing 25th Anniversary by showcasing our technology at JGR's Employee Event.
This will be Edwards' 11th All-Star race since he entered the Sprint Cup Series full-time in 2006.
Tune in, and let's cheer Carl and his SURFboard #19 on to Victory Lane!
NASCAR Sprint Cup Series – Sprint All-Star Race
Charlotte Motor Speedway, Charlotte, NC (1.5-Mile Oval)
Carl Edwards in the No. 19 ARRIS Surfboard Toyota
Live Coverage of the Sprint All-Star race from Charlotte Motor Speedway will begin Saturday, May 21 at 7 PM ET on Fox Sports 1
NASCAR Camping World Truck Series – North Carolina Education Lottery 200
Charlotte Motor Speedway, Charlotte, NC (1.5-Mile Oval)
Daniel Suarez in the No. 51 ARRIS Tundra with KBM
Live Coverage of the race from Charlotte Motor Speedway will begin Friday, May 20 at 8 PM ET on Fox Sports 1 (race starts at 8:30 PM ET)
https://youtu.be/MWNC1n3nLM4