Your significant other isn't the only thing that deserves attention this Valentine's Day.
Your Wi-Fi® is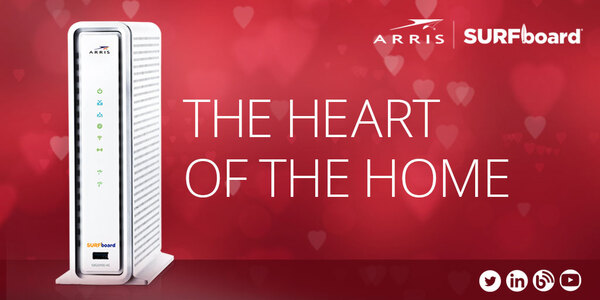 now a vital element of your home life. Show it some TLC, and it'll love you back by not ruining your night in front of a romcom.
These three tips will give you Wi-Fi to make Cupid proud.
See other people – You don't have to be faithful to your gateway if you can get better performance from someone else. Not all gateways are created equal. You can stay with your current service provider but, investigate in a new gateway that will boost the service you're currently receiving. Look for options with more download and upload channels to boost speeds.
Choose a better position – Moving things to the bedroom? Not so fast! If your gateway is all the way downstairs, you might not get the streaming quality you expect. Make sure your gateway is in the heart of your home to get the best coverage throughout, even in the bedroom.
Set the mood – When you achieve full coverage in every room of your house, you'll have more options to connect more devices, apps and services. For example, adding connected lighting to your home will make use of your enhanced broadband. And by using voice commands, you'll be able to get the lighting just right without breaking the mood by fiddling with buttons and menus.
It's Valentine's Day after all, so why not become more affectionate with better broadband and entertainment without the flaws?
Love, ARRIS.
PS. You can find more info on our SURfboard® portfolio that will steal your heart at www.surfboard.com