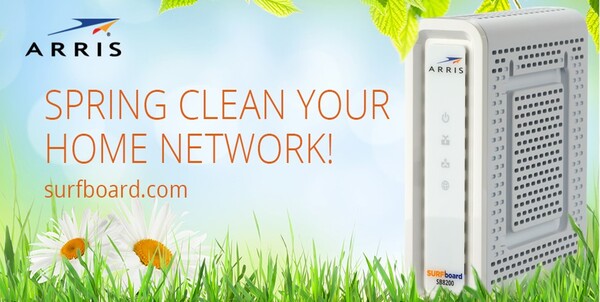 It's spring. We'll spare you the surfing and spring cleaning references, if you just remember to keep our new SURFboard® SB8200 modem in mind when you upgrade your home network this season.
Why upgrade your network, you ask? Just think about all that video streaming you've been doing, and all that wishing for faster Internet. Well, now, you can give yourself the gift that keeps on giving you the fastest possible Internet speeds and the best video streaming experience. You can buy our SURFboard SB8200.
It's true. Our SB8200 is one of the first modems available for purchase using DOCSIS 3.1 technology, which means it can deliver ridiculously fast speeds….today and into the future. And with its two Gigabit Ethernet ports, it'll give you more broadband speed to more connected devices*.
Why is that important? It's important because you'll get to speed up every aspect of your digital life—from streaming the latest 4K movies to sending email and browsing the web. All of this, while you pluck money off of your money tree every month waiting for your broadband service to catch up… which could take years. That's not just brilliant technology making your world a better place; that's common sense. Yours for $199.99 at Amazon.com and the ARRIS SURFshop.
*Actual rates may vary dependent on a number of factors including, but not limited to: the services offered by your cable service provider, network traffic, computer equipment, type of server, number of connections to server, and availability of internet router(s).