This weekend, we're kicking off the 2017 NASCAR season with Daniel Suárez and Joe Gibbs Racing at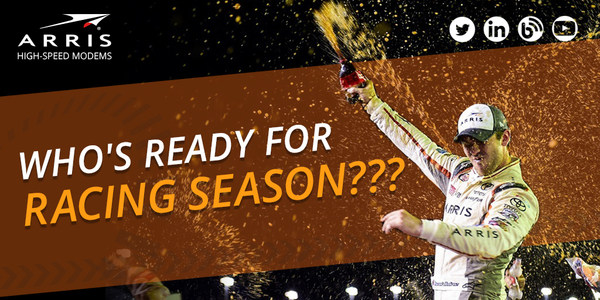 the legendary Daytona International Speedway. The action starts on Saturday with the Advanced Auto Parts Clash race, part of the new Monster Energy® NASCAR® Cup Series™ (formerly the Sprint Cup).
As you might recall, ARRIS provides Wi-Fi®to fans at Daytona International Speedway-the most comprehensive Wi-Fi deployment in NASCAR history. We also power the communications between drivers and their teams with our SURFboard® SB6183, E6000™ CER, and integration and support from our Global Services team.
This year, we're sponsoring Daniel Suárez in the Monster Energy Cup. Daniel returns to the No. 19 ARRIS Toyota Camry as the face of ARRIS and the champion of last year's XFINITY Series. His 2016 season was undoubtedly one of the most impressive of a rookie driver in NASCAR history. In just his second year of NASCAR racing, he won his first career XFINITY® Series race at Michigan, becoming the first Mexican-born driver to win a NASCAR national series event.
He'd go on to win two more races and bring the #19 ARRIS car to 19 top-five finishes in his 33 starts—including a final win at Miami, cinching the series title and making Daniel the first Latin American driver to win a NASCAR national series championship.
This season, at only 25 years-old, Daniel takes to the track with a little more riding on top of his wheels—with an entry into the sport's top series with this year's new three-stage format for each race, promoting a new level of competition for the championship title. But, perhaps most importantly, Daniel represents the future of an aspiring generation of racecar drivers, and we're proud to continue our partnership with him and Joe Gibbs Racing to continue making history.
Let's wish Daniel and the #19 ARRIS team a great start to the 2017 NASCAR season!
Don't forget to check out the ARRIS Racing site, and follow us on Twitter @ARRIS.
Here's a preview of this month's ARRIS Racing lineup:
Saturday, 18 February @ 8:00 p.m. ET –

Advanced Auto Parts Clash

: FS1 & MRN Radio
Thursday, 23 February @ 7:00 & 8:30 p.m. ET –

Can-Am Duel at Daytona 1 & 2

: FS1 & MRN Radio
Sunday, 26 February @ 2:00 p.m. ET –

Daytona 500

: FS1 & MRN Radio