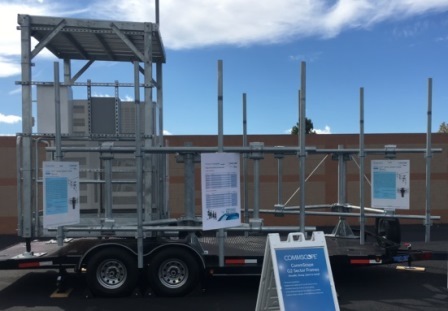 There are seven layers to a communications networks according to the Open Systems Interconnection model (OSI model). The layers include everything from the physical cabling, networking equipment and computer devices to software programs, programming languages and graphic user-interfaces.
From my perspective, the NATE UNITE 2017 show in Fort Worth, Texas, from February 27–March 2, is all about layer one—the physical layer. This wireless industry show is the premier event of the year for the tower erection, service and maintenance industry to come see the latest and greatest products. CommScope has plenty of new innovations for the cell site, and we are bringing a whole trailer full of them to NATE UNITE.
And I literally mean a trailer full.
At the show you will find CommScope's road show trailer featured in our booth. This trailer is what we have pulled across the US this past year, demonstrating our latest structural solutions for cell sites. It includes various physical layer solutions for today's wireless network needs, such as:
Come by the CommScope booth and get your hands on our latest cell site structural solutions. As we all know, you need a lot of wires to build a wireless network. And you need a lot of brackets, mounts and structural supports to build a cell site. See you in Fort Worth!