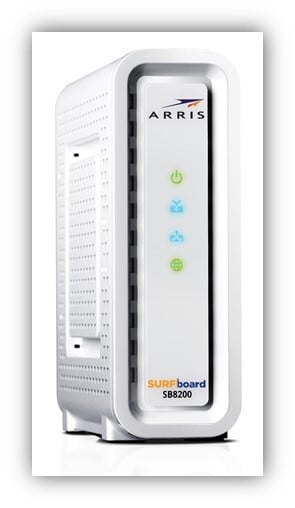 It's here! The SURFboard® SB8200—the latest member of the legendary SURFboard family has arrived!
We're incredibly excited about the SB8200. It's designed to deliver the fastest available* broadband service, both now and well into the future. It will let you access the most demanding services—like Virtual Reality, streaming Ultra HD, and high-performance gaming—with bandwidth to spare, and makes every day web browsing and streaming smoother than ever.
We believe it's going to be a real game-changer for your home network. To prove it, we going to explore some of the unique features of the SB8200, gigabit internet and DOCSIS® 3.1.
What is DOCSIS, and why does it matter?
Simply put, DOCSIS (Data Over Cable Service Interface Specification) is a standard that internet providers, like Comcast and Cox, and hardware manufacturers, like ARRIS, use to make sure their systems can communicate properly and provide you with home internet.
ARRIS was an early pioneer in the DOCSIS standard, which is used around the world to facilitate fast and reliable internet connections.
What is DOCSIS 3.1, and how is it related to gigabit speeds?
DOCSIS has evolved dramatically over time. Each new version has allowed more data to be transmitted, which leads to higher internet speeds in our homes. DOCSIS 3.1 is the latest version of the DOCSIS standard. It allows for download speeds up to 10+ gigabits per second. That's 10 times faster than DOCSIS 3.0, the previous version of the standard!
So, when we say that the S8200 is compatible with DOCSIS 3.1, it means that it can relay the fastest speeds available—today, and for a long time to come. You can find more information on DOCSIS on another one of our handy blogs, here.
What's the advantage of gigabit speed?
A one-gigabit connection is the same as a 1000-megabit connection. That's about 20 times faster than the average internet speed in the US today, according to Speedtest.net. In other words, gigabit connections are very, very fast.
Gigabit connections will make everything we already do online—browsing, using social media, streaming video—smooth and instantaneous. It also makes entirely new, internet-based technologies and experiences possible, in much the same way that broadband permitted services like Facebook and Netflix.
With gigabit speeds, we'll see everything from live streaming to virtual reality headsets and ultra-high definition TV, as well as other technologies we have yet to even dream of.
Which cable companies have approved the SB8200 for use, and will the device work with DOCSIS 3.0?
We're very excited that Comcast and Cox have approved the SB8200 modem for use by their subscribers. And we expect more major cable companies to approve it soon!
DOCSIS 3.1 is being quickly rolled out across the US. In the meantime, the SB8200 is fully backward compatible with DOCSIS 3.0. To check availability in your area, please call your service provider.
What are the standout features of the device?
The SB8200's compact design, combines a 2x2 DOCSIS 3.1 modem with a 32x8 DOCSIS 3.0 modem, meaning it supports two download and two upload DOCSIS 3.1 channels, plus 32 download and 8 upload DOCSIS 3.0 channels for the fastest and smoothest internet available. Simply put, the more channels, the better.
And here's a big one: it has two Gigabit Ethernet ports. This essentially doubles the throughput, when you compare the SB8200 to devices with only one port. It makes the SB8200 far more versatile. With one port, consumers only have the option of wiring a router to their modem. With a second port, users can create two separate gigabit-speed networks. Separate networks can be used for different purposes; for example: work and play. We advise subscribers to check with their service provider to ensure they can be allotted a second static IP address for enabling use of the second port.
Users also have the option of wiring certain devices directly to the modem, increasing the quality and consistency of that device's internet connection, while also directly connecting a router. This is a fantastic option for particularly high-performance and data-thirsty devices such as gaming consoles.
How do you provision the SB8200?
Provisioning the SB8200 is very straightforward. We have prepared this how-to video to guide you through the simple process.
Can you tell us which chips are in the SB8200?
It's company policy to not discuss which chips are in our devices. However, we are committed to using the very best hardware in all of our products.
Where can I buy the SB8200?
The SB8200 is available for purchase right now through Amazon and the ARRIS store. We expect it to be available at other major retailers in the coming months.
*Actual rates may vary dependent on a number of factors including, but not limited to: the services offered by your cable service provider, network traffic, computer equipment, type of server, number of connections to server, and availability of internet router(s).