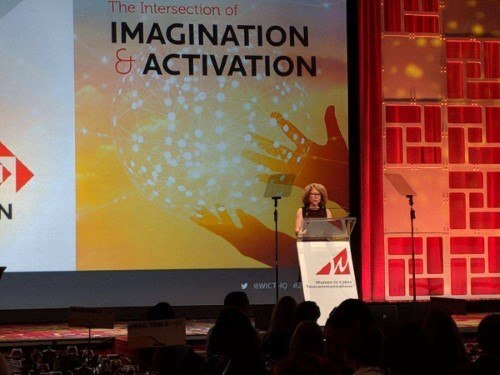 Every year, Women in Cable Telecommunications (WICT) honors and celebrates Women to Watch. It is one of the highest forms of recognition in our industry. WICT recognizes these women for the commitment, dedication and professional accomplishments they bring to their companies and the industry-at-large. This year, we're pleased to congratulate our own Leslie Miles – ARRIS Vice President of Corporate Programs and Indirect Procurement – for joining this elite group.
We spoke with Jim Brennan, SVP of Supply Chain, Quality and Operations at ARRIS, who had the honor of introducing Leslie at this year's honoree luncheon. As Jim told us: "Leslie brings passion, energy, and skill to everything she touches at ARRIS. She has been responsible for managing the integration of many of ARRIS's most high-profile acquisitions and divestitures, including Motorola Home, Google, Pace and Ruckus Wireless. As part of that effort, she's brought together business units and colleagues around the world to seamlessly unify them around a single set of goals while instilling a culture that treats everyone with respect."
Leslie also leads our Customer CONNECT program to ensure that the voices of our customers are always heard. Through her efforts, we've become a better company, but also a valuable partner to our customers. Two years ago, she became the founding board chair for the ARRIS Women's Business Network, which promotes diversity, inclusiveness, and personal and professional development. She has worked tirelessly to build the global network to more than 900 members strong. As a transformational leader, she instills confidence, fosters true mentorship and promotes strong ethical values throughout the network, our company, and the industry-at-large.
Jim also shared that: "Leslie once told me that her mom had no clue as to what she did for a living. In her usual eloquent style, she explained that she's like a conductor who helps all the musical experts sound like an orchestra to bring the best symphonic experience to an audience. Well, I'm not quite as creative in my delivery, but I constantly trumpet her praise because I know this perfectly describes her."
We complete agree, Jim. It's our pleasure to congratulate Leslie and recognize her tremendous efforts on behalf of everyone at ARRIS.