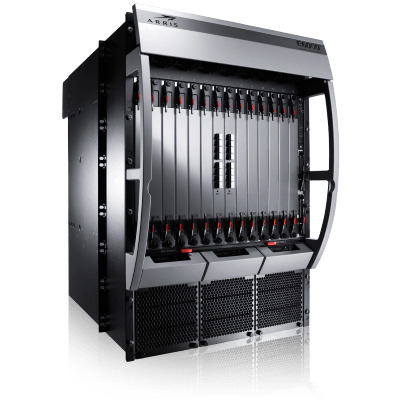 New Capabilities Extend the Value of Industry's Leading Converged Cable Access Platform
ARRIS continually evolves our products and services to ensure that our global customers are equipped with the latest advancements to enable constant connectivity. Today at SCTE Cable-Tec Expo 2018, we're demonstrating how the ARRIS E6000® Converged Edge Router (CER) – the industry's leading Converged Cable Access Platform (CCAP™) – combines several updates for maximum flexibility.
The ARRIS E6000 CER is poised to work across multiple DOCSIS® data and video delivery architectures. It offers support for Integrated CCAP (I-CCAP), and the Remote PHY (R-PHY) Distributed Access Architecture (DAA), out of the same physical chassis.
Hybrid Approach: I-CCAP & DAA in the Same E6000 CER
Current software releases on the E6000 CER require separate, dedicated chassis for I-CCAP and DAA. The new, hybrid approach more easily enables operators to introduce R-PHY into their network by converting DCAM-2s and UCAM-2s over to support the CCAP core functionality within an existing I-CCAP chassis. Alternatively, operators can introduce R-PHY by deploying additional DCAM-2s and UCAM-2s or CCAP core modules into empty slots of an existing E6000 I-CCAP chassis. This prevents the need for deploying a new chassis just for R-PHY.
As operators migrate from centralized HFC architectures to distributed architectures for HSD and video delivery -- whether fiber-deep or not -- they need an evolutionary approach that provides easier adoption and cost efficiencies. Giving them line cards that can be designated I-CCAP or DAA within the same E6000 chassis does just that.
Another way we ease deployment for operators is through the E6000r™ Remote PHY Shelf. Its node-agnostic deployment model brings all the benefits one receives from Remote PHY without the need for different devices.
Leveraging ARRIS's Video DNA
With ARRIS's work in a wide variety of video environments across the world, we have a strong understanding of how high-quality video is efficiently delivered over networks – something increasingly important as technology evolves.
The E6000 CER has the flexibility to support Remote PHY solutions in many types of video ecosystems. A single chassis for centralized I-CCAP DOCSIS data and QAM video delivery—and DAA DOCSIS data delivery with QAM and IP Streaming—gives operators the opportunity to converge video, high-speed data and voice services on a single physical connector.
A True End-to-End Solution with a Standards-based Approach
We recognize there's no one-size-fits-all solution to network development, so we take a differentiated approach for our diverse global customer base. With the Hybrid I-CCAP/R-PHY capabilities of the E6000 CER, ARRIS has all the components needed for a full end-to-end reference architecture. It's flexible enough to work with a variety of architectures required by our customers. Since it is standards-based, there are many options for adding capacity and supporting new services.
The new capabilities will be available in Q1, 2019. We'll be demonstrating the E6000 CER at the SCTE Cable-Tec Expo in Atlanta from October 23-25 at booth #2507. Be sure to stop by to learn more about the advancements and how we're delivering DOCSIS 3.1 at scale.