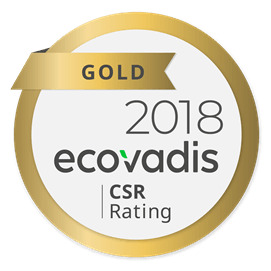 In recognition of our commitment to corporate responsibility in everything we do, ARRIS has been awarded a GOLD medal from sustainability assessor EcoVadis. This is the third year in a row that we have achieved the top rating. This year's rating places us within the top one percent of our industry sector and within five percent of all businesses assessed by EcoVadis.
"The EcoVadis Gold Medal recognizes the great work we are doing in corporate responsibility and goes a long way to demonstrate to our customers our efforts to minimize the environmental, social and ethical risks in our business operations" said Patrick Macken, ARRIS Legal and Compliance.
We're proud to receive this recognition and are committed to maintaining our corporate responsibility leadership. For more information regarding our ARRIS Corporate Responsibility initiatives, check out our latest Corporate Responsibility Report.