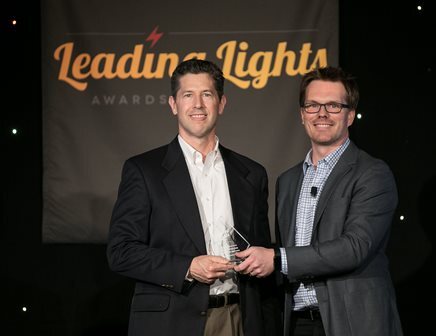 The mobile connection is the primary connection for most people – and increasingly for things (i.e. the Internet of Things). As the wireless industry evolves toward 5G, indoor mobile communication will become even more prominent connecting people with one another and with information. Most of the use cases in the familiar 5G triangle, such as industrial automation and smart buildings, are either partly or exclusively indoors.
But delivering wireless service inside buildings can be difficult. Traditional analog distributed antenna systems force mobile operators to dedicate precious mobile capacity to individual buildings, and they force building owners to devote significant space and power to large head-end facilities.
Light Reading has recognized the importance of addressing this challenge by awarding the CommScope ERA C-RAN antenna system its prestigious 2018 Leading Lights Award for Most Innovative Mobile/Wireless Product or Service. Now in its 14th year, Leading Lights is the communications industry's leading awards program, recognizing top companies and executives for their outstanding achievements in next-generation communications technology, applications, services, strategies and innovations.
Here's why - CommScope ERA gives mobile operators, neutral hosts, building owners and enterprises a flexible, low-cost way to deliver LTE and future 5G services in commercial buildings, by leveraging operators' initiatives to centralize and virtualize their baseband radio assets.
ERA moves the traditional distributed antenna system (DAS) head-end into the cloud – it allows the operators to use capacity in their existing C-RAN hubs rather than dedicating base stations to individual buildings. Additionally, ERA is all-digital. The system can do in software what a traditional DAS must do in hardware. This keeps size and costs down and increases system flexibility. For example, it enables software-defined MIMO that delivers 85% of "hardware MIMO" performance at zero additional cost.
Through a collaboration with Nokia, ERA provides an optimized CPRI interface to Nokia AirScale baseband units, further reducing the base station space footprint and energy use.
CLICK TO TWEET: Light Reading awarded the CommScope ERA C-RAN antenna system its prestigious 2018 Leading Lights Award for Most Innovative Mobile/Wireless Product.

The resulting savings are dramatic. Compared to analog DAS, ERA saves up to 90 percent of space, power and fiber costs. And the centralized RAN architecture and digital fiber pathways that ERA establishes today will support 5G in the future.
CommScope holds 164 patent families for the technological innovations incorporated in ERA.
We're proud to be contributing these advancements to the industry and to hear the feedback. "The quality and number of submissions we received this year across all of our categories, which this year included specialist awards for Outstanding Communications Technology Vision and Most Innovative 5G Technology Strategy, was testament to the innovation that underpins developments in the global communications industry and once again showed how seriously the industry takes this awards program," said Light Reading International Group Editor Ray Le Maistre.
I'm excited to add another trophy to the shelf in our office lobby, but I'm even more excited each time we light up another building with clear voice and blazing data. Do you know a building that needs a wireless makeover? If so, walk over to the window – one last time – and call us.
All-digital in-building cellular solution
CommScope ERA® leads the industry by providing advanced solutions encompassing DAS equipment, antennas, and managed services, driving unparalleled high-capacity 5G coverage in stadiums, arenas, and transportation hubs.
Learn more