Since originally coining the term "Wi-Fi®," Wi-Fi Alliance® has served as one of the most important organizations in the wireless world. For nearly two decades, it has been the premier body for promoting cross-industry collaboration, improving end-user experiences and certifying Wi-Fi technology. So, when Wi-Fi Alliance issues a Quality of Service award (their version of a lifetime achievement award), people take notice. We're thrilled to announce that Ruckus' own Mark Hamilton, Principal Networking Standards Engineer, was awarded this prestigious honor last month.
According to Wi-Fi Alliance, the Quality of Service award recognizes "exemplary contributions to our mission by individuals who have demonstrated leadership and developed significant initiatives for Wi-Fi Alliance or the Wi-Fi industry at large." By that standard, Mark certainly fits the bill. From his important work in the earliest days of Wi-Fi to his central role in high-profile Wi-Fi Alliance initiatives, he continues to make major contributions to our industry.
Pioneering Wi-Fi innovation
Mark has been active with Wi-Fi Alliance since early 2006, serving on a wide range of projects and chairing multiple task groups. But Mark's leadership in Wi-Fi started much earlier. Back in 1999, he was a lead architect for some of the first products to bring voice services to Wi-Fi. That early quality-of-service (QoS) work laid the foundation for running all manner of real-time services over Wi-Fi, including video, and led to many of the QoS features used in modern Wi-Fi networks. Ultimately, Mark and his Wi-Fi Alliance collaborators helped transform Wi-Fi from simply a data network into the "anything and everything network" we recognize today. Some additional highlights from Mark's work over the years with Wi-Fi Alliance include:
Coexistence of LTE in unlicensed bands: Mark chaired this initiative to test how LTE in unlicensed bands can coexist reasonably and fairly with Wi-Fi. The work made major waves last year in both the media and the larger industry, increasing pressure on cellular providers to ensure that their technology can expand into new spectrum without negatively impacting Wi-Fi services.
Optimized Connectivity: Mark has played a key role in Wi-Fi Alliance's Wi-Fi Vantage™ program, which certifies devices that use new techniques to enhance performance and dramatically improve spectrum efficiency in the highest-density public venues.
Agile Multiband: This initiative, for which Mark chaired, focuses on a key supporting technology in Wi-Fi Vantage. Agile Multiband-certified devices use new band-steering and client management techniques to improve performance in large enterprise deployments.
Wi-Fi Home Design: Mark was a major driver of this project—Wi-Fi Alliance's first foray into certifications beyond devices alone. Launched in June 2017, the program aims to improve notoriously challenging in-home Wi-Fi experiences by certifying professionally designed, builder-installed Wi-Fi networks in new home construction. Home builders receiving the Wi-Fi Home Design certification use industry-approved network installation plans based on exacting Wi-Fi deployment guidelines, so that the people living in those homes get simple, high-performance coverage everywhere they need it. Since launching, the program has already issued more than 1600 certifications. Mark and his colleagues are now working to expand the certification to other types of residences.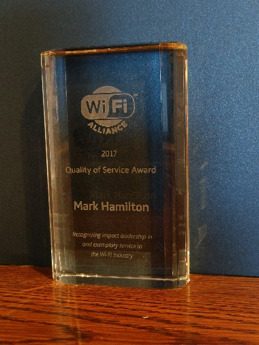 Mark also recently took on a leadership role with the Hotspot 2.0/"Passpoint" program), which certifies cross-industry Wi-Fi devices that make it easier for users to connect in public spaces around the world. Additionally, Mark is helping lead Wi-Fi Alliance's Pre-Association Infrastructure Service Discovery (PID) group. The project aims to make network selection easier for devices in venues with multiple Wi-Fi networks, allowing devices to identify networks that offer the services they need (Internet access, printer access, etc.) before associating.
Making Wi-Fi Work Better for Everyone
Mark's work in all of these initiatives, and others, furthers the Wi-Fi Alliance goal of bringing interoperability across Wi-Fi vendors to promote industry growth and ensure that all Wi-Fi users enjoy an excellent wireless experience. "There are a lot of wireless standards out there that never went anywhere because an ecosystem never really formed around them and embraced that technology," says Hamilton. "It takes a group like this to turn a technology from a great idea into real momentum in the marketplace. Wi-Fi Alliance has been the leading industry group finding the balance between competition and cooperation among participants to create those ecosystems. I'm very pleased to be able to continue contributing to this important work."