Wi-Fi is ubiquitous and continues to find its way into ever more demanding environments. The latest examples of this are sporting venues and convention centers where conventional Wi-Fi does not hold up. When 70K fans are looking to stream video replays of a winning goal or a missed penalty kick on their devices – basic Wi-Fi just isn't enough. Even with additional network density capabilities, Wi-Fi (as defined by the standards-body) is seldom capable of handling the data traffic load, or the pervasive management traffic load generated by tens of thousands of clients and hundreds of APs within a small location. With over 30 billion connected "things" expected by 2020, ensuring quality of service in 'ultra-high-density' locations like a stadium is becoming more challenging than ever. Applications such as 4K video streaming (which is becoming the norm) are expected to drive internet traffic to 278,108 petabytes per month by 2021, with users generating 163 zettabytes of data on an annual basis by 2025. And despite the massive increase of both devices and data, the amount of unlicensed spectrum available for Wi-Fi has remained static for nearly two decades.
Benefits of the Ruckus Ultra-High-Density Technology Suite
An example of just one problem to overcome in delivering high performance Wi-Fi is probe requests and responses, which represent 'handshakes' between a device and the AP. In a stadium or lecture hall, these management frames dramatically increase the overhead traffic needed for a functional Wi-Fi network and thus steal 'airtime' from useful user data traffic. Therefore, APs deployed in 'ultra-high-density' environments must be optimized – not just for the most appropriate modulation scheme, encoding rate, guard interval and other standard Wi-Fi parameters – but also for transient dwell-time, probe response-interval delays and channel selection. This is precisely why the Ruckus Ultra-High-Density Technology Suite packs multiple features – that go well beyond the Wi-Fi standard – to ensure high quality of service in dense environments. These include Transient Client Management, Airtime Decongestion, Adaptive Wi-Fi Cell Sizing, Network Capacity Utilization and BeamFlex Adaptive Antennas and more. Let's take a closer look at a subset of these technologies below.
Transient Client Management
Transient client management helps mitigate network performance degradation in ultra-high-density environments – such as transportation hubs – where transient clients may inadvertently overwhelm and degrade network performance. This feature employs statistical methods to delay access point(s) associations with transient clients. Transient client management also allows venue administrators and IT administrators to fine-tune configuration parameters based on typical dwell times and RSSI of transient clients.
Airtime Decongestion
Airtime Decongestion effectively increases average client throughput by reducing unnecessary traffic (management frames) between AP and clients, thereby allowing more airtime to transmit user traffic data.
Adaptive Wi-Fi Cell Sizing
Per client throughput and user experience are frequently affected when changes are made to topology (number of APs), technology (upgrading to the latest 802.11 standard), or when APs experience outages. Adaptive Wi-Fi cell sizing minimizes client throughput degradation by dynamically adjusting cell size to compensate for changes. It should be noted that this feature may also be useful in triaging performance and/or stability issues in over deployed or under deployed Wi-Fi networks.
Network Capacity Utilization
APs in dense networks are prone to uneven client load distribution, which often results in network under-utilization, sub-optimal client-to-AP link quality and lower throughput. Network Capacity Utilization provides adaptive client management techniques to evenly spread client load across APs and bands, thereby maintaining optimal AP-to-client links in ultra-high-density environments.
BeamFlex Adaptive Antennas
Traditional APs are equipped with "omnidirectional" antennas that radiate signals in all directions. In contrast, Ruckus BeamFlex adaptive antennas allow APs to dynamically select a host of antenna patterns – up to 4,200 possible combinations in real-time – to establish the most optimal connection with each device. In addition, BeamFlex+ enables antennas to adapt to both client device orientation and location.
Introducing the Ruckus R730 AP
Along with these technologies, Ruckus is also announcing the Ruckus R730 - the industry's first IoT- and LTE-ready, 802.11ax wireless access AP. With IEEE 802.11ax, the R730 can deliver peak data rates of up to 4.8 Gbps through multiple enhancements, including boosting spectral efficiency with OFDMA and reducing sub-carrier spacing. 802.11ax even extends support to the 2.4GHz band and optimizes power efficiencies for devices. The high-capacity, 12 spatial-stream R730 works in tandem with our Ultra-High-Density Technology Suite to smoothly deliver high-quality Wi-Fi service in challenging environments such as stadiums, transit stations and lecture halls. To help ensure safer connections, the R730 complies with both the new WPA3™ security protocol and Wi-Fi™ Enhanced Open for more secure connections on public networks.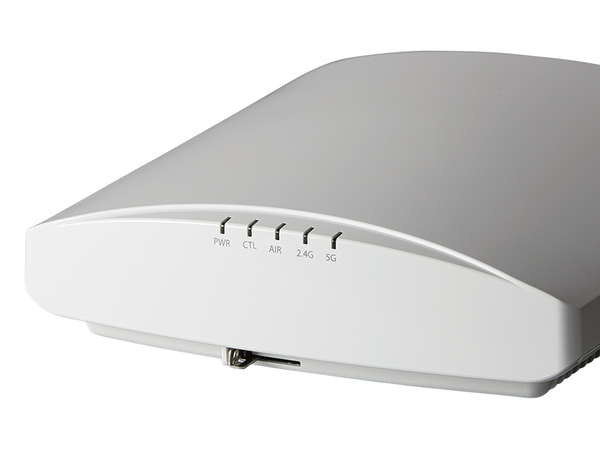 The R730 – which includes embedded Bluetooth® Low Energy and Zigbee radios – can be augmented with Ruckus IoT modules to support additional physical layer protocols such as NB-IoT. Using the Ruckus IoT controller, these separate networks and the IoT endpoints associated with them can be managed, coordinated and connected to IoT cloud services as part a converged unified access network. The R730 also accommodates modular Ruckus OpenG™ LTE APs operating in the U.S. Citizens Broadband Radio Service (CBRS) 3.5 GHz band, enabling existing Wi-Fi APs to provide LTE service. Using modular or stand-alone LTE APs, organizations will be able to build their own private LTE networks to improve the quality of indoor cellular service within their facilities.
Technology Beyond the Standard
With over 30 billion connected "things" expected by 2020, ensuring quality of service in ultra-high-density deployment scenarios with older IEEE 802.11ac APs will become increasingly difficult as content like streaming UHD/4K video becomes common. While 802.11ax includes multiple enhancements to support the latest connectivity demands, Ruckus' Ultra-High-Density Technology Suite goes well beyond the 802.11ax standard. Put simply, the Ultra-High- Density Technology Suite addresses challenges unique to ultra-high-density venues with features such as Transient Client Management, Airtime Decongestion and BeamFlex+ adaptive antennas. To learn more, visit the R730 product page.