Y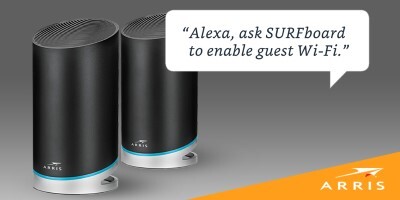 ou're hosting a BBQ. Your guests are hanging out in the yard and in all sorts of spots that were beyond the reach of your old Wi-Fi network… before you got the new ARRIS SURFboard mAX™ mesh Wi-Fi® system.
Now, your whole home is covered with blazing fast Wi-Fi. But how do you light up the guest network for your esteemed guests, while you're busy tending the grill, refilling drinks, or making sure the kids don't run away?
Well, now, all you have to do is say into your existing Echo device, "Alexa, ask SURFboard to enable guest Wi-Fi."
With the SURFboard mAX system and Alexa, you don't have to lift a finger to access your most popular Wi-Fi network commands. Share your guest Wi-Fi password, or manage guest Wi-Fi—all with your voice.
To learn more about the SURFboard mAX mesh Wi-Fi system, check out surfboard.com.