The retail industry is currently in a tailspin. Buffeted by the competing influences of changing consumer spending patterns, demographic changes, and the online shopping revolution, retailers are faced with what you might call a challenging business landscape.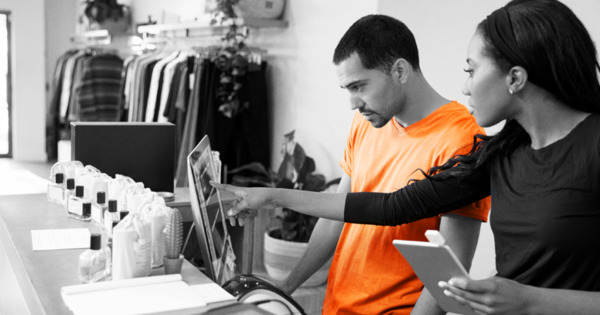 As a result of these challenging circumstances Europe's share of the Top 250 global retailers' revenues has dropped, falling from 39.4 percent to 33.8 percent over a ten-year period. On the high street itself, this decline has been embodied by many major retailers – such as Gap, Toys 'R' Us and Carrefour – choosing to close some or all their stores.
To help retailers identify how they can adapt to the changing market, we spoke to over 5,000 consumers across the UK, France and Germany. We asked them how they feel about the in-store retail experience in comparison to online shopping, the last time they shopped in a store and why they chose to do so, as well as the technology they'd like to see in-store.
Given the well-documented struggles of in-store retail, you might expect consumers to have a lowly view of the experience, resulting in the move to online. However, the survey revealed that people actually believe the in-store experience is ahead of the online shopping experience. This should offer hope to those with a high street presence and the research shows how retailers can act on local nuances to build on this positive viewpoint.
We asked consumers what motivates them to go in-store to make a purchase. The results showed that shoppers prefer the physical point of sale thanks to being able to interact with sales staff. Other popular factors included being able to purchase in-store after browsing online and taking advantage of staff expertise regarding products.
There is constant discussion in the retail market about the role that technology can play in helping retailers succeed. So, what technologies should retailers be investing their money in? Our respondents were given a range of options including self-service payment apps, free Wi-Fi access, and real-time stock availability and the results were clear when it came to what shoppers want to see in-store.
Of course, it is impossible to talk about digitalization without also thinking about the sanctity of consumer data. As a retailer, understanding how your customers shop is essential to in-store strategy. However, with rising awareness and concern about how this data is used or shared, it's important to understand what consumers are willing to give away in order to access digital services. The results reflect the fact that consumers remain cautious about sharing their data. Nonetheless, it does also show that some consumers are willing to part with personal data for access to services such as Wi-Fi access and self-service payment apps.
The 'Building the Connected Store: A Retail Playbook' shows how retailers need to adapt to the changing demands and expectations of the modern shopper. Retailers need to act now to lay the foundations for their future success. We've used the insights from the playbook and Ruckus' position in the market to create three retail plays. Each play addresses the needs of today's store, the demands for tomorrow's store and the fundamentals that will help retailers tackle the ever-changing retail landscape. Download the report and take the first steps towards Building the Connected Store.