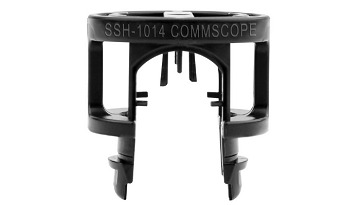 A farmer wanted to plow more land in the same time – he upgraded from a horse to a tractor. A chef wanted to try new cookies – she chopped up a chocolate bar and invented the chocolate chip cookie. People wanted more light in their houses at night – they changed from candles to gas lamps to electric lights. Even the best ideas can be improved on.
CLICK TO TWEET: CommScope's Jeff Epstein highlights in this blog the improvments made to the company's SnapTak PIM-guard solutions.
Passive Intermodulation (PIM) is a serious problem at the top of cell towers, robbing a network of valuable capacity. That's why CommScope invented the SnapTak cable hanger, made of a polymer as opposed to metal, which helps reduce PIM at tower tops. Part of the PIM-guard family, it is available in different sizes and helps make sense of the plethora of cables running near the antennas. But, even a good product can be improved on.
By talking to the installers who use SnapTak, CommScope learned a lot about the conditions in which one-half inch jumpers are installed on modern crowded cell sites. Cables don't run under ideal conditions with straight routing and flowing bends. Hangers need to be attached close to antennas, radios, and devices at the proper support intervals, but the best mounting spot is not always available. In addition, cables are sometimes stacked to save space and often are not running in parallel.
To make it easier for installers, CommScope came up with three improvements. First, the SnapTak number SSH-1416 was enlarged and strengthened in key locations, enabling it to better withstand hard installation conditions. Next, because of SnapTak's small size, a tool was created to make it easier to remove after cables are installed. Finally, the new Multi Function Adaptor was designed for times where you need to offset stacked cables or need a little more hanger height to match the cable stack height of an old metal hanger.
SnapTak and the entire PIM-guard family have always been good products. Adding these new features and tools makes them even better, just like chocolate chip cookies.
Additional resources: