Last week Managed Service Providers (MSP's) from mostly the US and Canada gathered at Channel Connection's XChange 2019 show in Las Vegas. They were there not to gamble but to hear industry experts and vendors talk about the latest technical trends and solutions. A large percentage of the MSP partners that attend this show sell to the Mid-Market a sweet spot of Ruckus solutions.
At the XChange 2019 show, Ruckus had the opportunity to do a keynote speech, four boardroom training sessions with fifteen partner reps each, an exhibitor's booth and an interview by CRN. Jeanette Lee, senior director of product solutions architecture kicked off the first day with a keynote on problem-solving for MSP's. "People (end users) have problems. As an MSP it's your job to help your customers solve them, As a Network vendor, it's my job to help you help your customers with their networking needs." Ruckus MSP keynote
In the boardroom sessions the MSP's placed their bets on Ruckus IoT, CBRS/LTE, managed Cloud Wi-Fi and Cloudpath solutions. The staff at Ruckus takes the "bored" out of the boardroom sessions. 90 plus percent of the partners asked for more information on Ruckus and these topics after playing a fun interactive Ruckus Roulette mock casino game based on solutions the MSP's can take to their customers.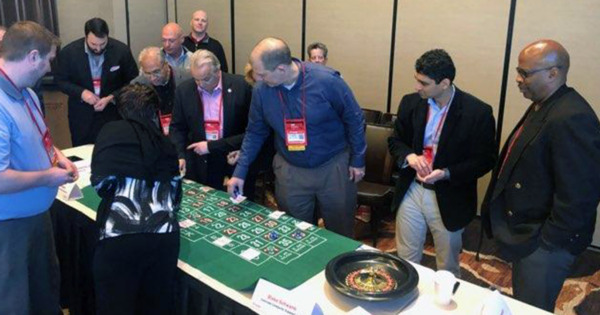 CRN's Kyle Alspach interviewed Jeanette Lee onsite at the Red Rock Casino during the 3-day XChange 2019 event. Jeanette Lee's focus was on Citizens Broadband Radio Service (CBRS) and private LTE and how it will be a game changer in the Managed Service Provider space. Ruckus is first to ship CBRS 3.5GHz LTE enabled access points (AP's) to the market. CBRS and LTE are a much less expensive way to implement a mobile neutral LTE alternative than distributed antenna systems (DAS). This creates a ruckus in the marketplace for our CBRS solutions. It is a simple and scalable solution for the MSP's. Jeanette Lee during the interview stated "If you can install an AP you can install CBRS, it's that easy" CRN interview of Jeannette Lee on CBRS and LTE
Partners stopped by the booth wanting to know more information from the keynote speech and the boardroom conversations. We had Jeanette Lee, Curtis Bowcutt, Director of Channels and Eric Schroeder, Systems Engineer and Donna Telesky, Director of Field Marketing on hand to field mostly technical and some non-technical channel program questions. Leaving XChange 2019 in Las Vegas with some new partner recruits for our Ruckus Ready Channel Program!