Ruckus Networks, an ARRIS company, has expanded its extensive switch lineup with the ICX 7850. The new switch is specifically designed to provide a complete edge-to-core solution for campus networks well into the next decade.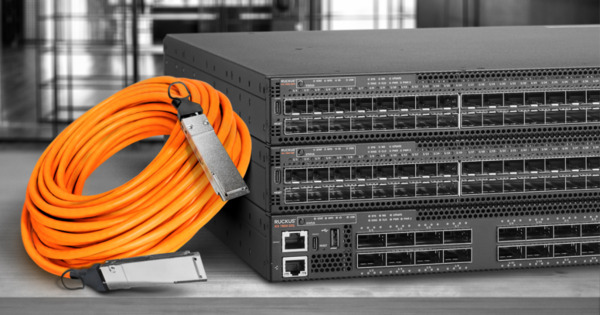 "The ICX 7850 delivers high-end routing and security capabilities suitable for large campus networks in a fixed form factor," said Siva Valliappan, Vice President of Wired Products, Ruckus Networks, an ARRIS company. "Perhaps most importantly, our stackable ICX 7850 provides the power, performance, and reliability of a chassis with a pay-as-you-grow model. This makes the ICX 7850 a cost-optimized solution for complex network requirements across a range of verticals and businesses including education, government, enterprise and service providers."

As Valliappan notes, recent advances in Wi-Fi technology, such as Wi-Fi 6 (802.11ax), the IoT and LTE are all driving the demand for multi-gigabit access by significantly increasing the amount of data traversing enterprise edge networks.

"Enterprise and data center networks are being pushed to the breaking point and the capacity of traditional 10 Gigabit Ethernet (GbE) backbones is being tested," he explained. "The ICX 7850 can help by enabling seamless replacement of existing 10G products with a high density, secure, scalable platform. The ICX 7850 supports high density 10GbE, 25GbE, 50GbE and 100GbE using existing customer investment in fiber cabling to enable unprecedented network growth."

Many organizations, particularly school districts with older, existing networks have OM1 or OM2 fiber optic cables that require Long Reach Multimode (LRM) optics to achieve the 10 Gbps connections needed for today's bandwidth needs. The ICX 7850 provides investment protection and an upgrade path for customers with older fiber infrastructure by offering support for LRM optics with select family members.
Pay-as-you-grow with the ICX 7850
As we noted earlier, the ever-increasing need for Wi-Fi connectivity is taxing the network core, although the solution to keeping pace with the proliferation of connected devices and advances in Wi-Fi technology does not need to be complex and expensive. While the introduction of multi-gigabit connectivity at the edge is driving the need for higher bandwidth in the aggregation and core of enterprise networks, the total cost for enterprises can be reduced by deploying the ICX 7850. This is because the ICX 7850 easily scales to meet future network demands for delivering connectivity from the edge to the core.

To be sure, the advanced stacking capability of the ICX 7850 scales up to 12 switches, with a pay-as-you-grow model that is simpler and more cost-effective with linear scaling of switching power than alternatives. High reliability is provided with hitless stack failover, multi-chassis trunking, and in-service software upgrades to eliminate downtime. Unified management options are available via the Ruckus SmartZone Network Controller, which configures, monitors and troubleshoots the complete Ruckus ICX switch portfolio and wireless access point (AP) network.
Scalable spine leaf type architecture
The ICX 7850 also solves the challenge of traditional datacenter fixed and modular switches, which have historically been expensive and complex to manage. This is precisely why the ICX 7850 offers support for advanced spine-leaf architecture deployments, along with routing capabilities that deliver Layer 3 support and virtualization to the top of rack Ethernet switch. Moreover, the ICX 7850's switches are architected to leverage multi-tier, multi-chassis trunking at the core and in aggregation to deliver reliable, high-speed routing capabilities in a more flexible fixed form factor. This highly scalable network solution is simpler and easier to manage with reduced power and cooling requirements as well as best in class lifetime warranty – all at a much lower total cost of ownership (TCO) than alternative switches and chassis.

Much like enterprise networks, service provider networks are evolving to accommodate scalable spine leaf type architectures. MSOs are at the forefront of this trend with resilient Converged Interconnect Networks (CINs). The ICX 7850 fits a key design point for CINs by filling the role of both the edge and core Ethernet optical switch. This makes the ICX 7850 a key building block for secure and easy to manage end-to-end Ethernet networks by connecting RPDs and CCAP Core and the optical IP interconnect for R-OLT to virtualized services in the headend. Moreover, the ICX7850 is fully tested and integrated into the ARRIS Access Network Evolution Framework (ANEF), enabling the switch to deliver a robust and seamless end-to-end DAA solution for cable operators and service providers.

Security and Encryption
The ICX 7850—along with all switches in the Ruckus portfolio—support the latest security standards and encryption technologies. ICX switches have been deployed in US federal government for over two decades and comply with the most stringent security standards and federal certifications including FIPS, Common Criteria, CSFC and JITC. The ICX 7850 also supports Media Access Control Security (MACsec), a Layer 2 security technology, based on symmetric cryptographic keys, to provide point-to-point encryption on Ethernet links between nodes. A MACsec Key Agreement (MKA) protocol generates and distributes cryptographic keys used by the MACsec functionality installed in the hardware.
Availability
The ICX 7850 switch is currently available and will be demonstrated in booth 2022 at AFCEA West 2019, February 13-15, 2019, at the San Diego Convention Center in San Diego, California. For additional information about the ICX 7850, please visit our product page.
---