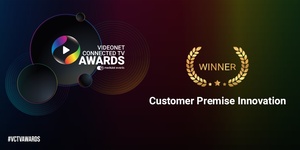 CommScope received recognition from Videonet during its 2020 Connected TV Awards. During Videonet's virtual ceremony, CommScope's Smart Media Device (SMD) took home the award in the Customer Premise Innovation category and I couldn't be happier with our team and this achievement.
For this award, judges were looking for solutions that will improve the premium video entertainment lives of consumers in their homes or help media owners, platform operators and network operators deliver and/or manage better services within homes.
CommScope's SMDs combines the functionality of the most important gadgets in the connected home to create a single touch point for consumers' digital lives. It's a set-top, smart speaker, visual smart assistant, IoT hub, voice and video conference, and remote control—all in one. This combination allows the device to offer a more personalized, connected, and convenient way to enjoy all the media, services, and applications in the digital home. At IBC last year we announced our latest model, the VIP7852, and the launch of a SMD with Altice France.
CLICK TO TWEET: CommScope's Smart Media Device received an industry accolade from Videonet. Learn more about the solution's Connected TV Award by reading Anthony Zuyderhoff's blog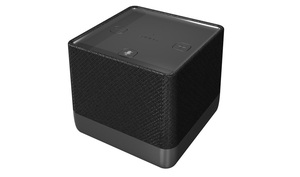 According to Steven Hawley, Principal Analyst and Consultant, tvstrategies™, who was one of the category's judges, he stated, "CommScope's SMD is designed to help pay TV operators extend their opportunities with consumers beyond video and broadband services, by enabling voice-visual smart home and smart speaker use-cases that consumers can control using familiar Google Assistant and Amazon Alexa commands."
Another judge, Ian Nock, Managing Director and Founder, Fairmile West, wrote, "This has been a tricky area in the service provider realm, but CommScope has the 'chops' to do it and their submission showed all the signs of being a success, used by one of the worlds' International big players in their 'home' market."
We believe that the current global pandemic, COVID-19 will have sustainable impacts on how we interact with people and our home. The home is now a care center, a school, a concert hall, a place of virtual gatherings for both work and family and friends. Video has never been consumed or broadcast as much as during this period and all age groups are now comfortable with video sharing applications. This all serves to reinforce our belief that SMDs are an area of incredible potential for service providers.
Our range of SMDs presents operators with an exciting new framework for personalized, voice-enabled aggregated services in entertainment, e-health, education, utilities, productivity and more.
Additional resources: