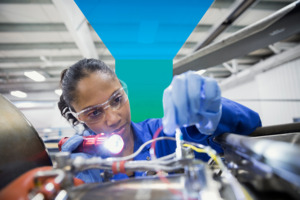 CommScope strongly supports equal opportunity for all people. One of the ways we show our support is by offering free DAS training to women in the wireless industry or with a wireless background who want to enter the DAS business. This four-year old program, sponsored by CommScope's Distributed Coverage and Capacity Solutions (DCCS) group, has recently expanded to incorporate more trainings and certifications than ever including small cells and CBRS technology. The goal is to help women who are interested in improving their knowledge in these fields to help them find work or expand opportunities available to them.
CLICK TO TWEET: CommScope has an exciting opportunity for women who want to learn more about wireless technology for free. Pinder Chauhan explains in this blog.
DAS and small cells are rapidly growing and more relevant than ever in the marketplace because the advent of 5G makes it more imperative that buildings have strong cellular signals inside. There are many new deployments and many building owners who are seeking to upgrade their wireless systems to support 5G. CommScope uniquely offers DAS and small cell products to support any application, from smaller buildings to large venues such as airports, stadiums or transit stations.
CommScope is proud to offer these trainings to interested women who are working within our partner organizations – customers, installers, systems integrators—and who meet certain requirements. They can become certified for free by attending the requisite training classes about CommScope's DAS, small cell, CBRS and repeater solutions.
Since launching our free DAS training program several years ago, dozens of women have taken courses ranging from basic DAS 101 classes to more advanced certification training in specific CommScope products like Era and OneCell. We also offer classes in legacy CommScope products like InterReach and FlexWave. To see the complete course catalog, visit http://commscope.netexam.com/catalog.html.