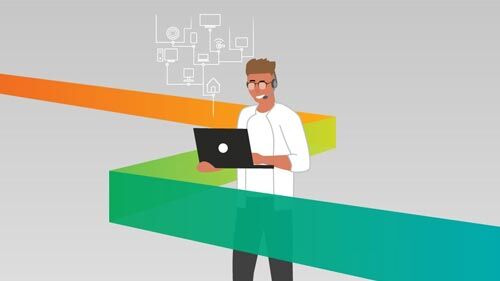 Given the unique global situation this year, all of us have become more aware of our dependence on the Internet. We have also been reminded of the importance of a reliable, high-quality Wi-Fi connection throughout the home. More people are using video conferencing for working and learning. The whole family is at home consuming their entertainment, sometimes together in one room, but more often on multiple personal phones, streaming players and game systems. All these devices and services rely on the Wi-Fi home network.
Even before these trying times, Wi-Fi was a source of customer dissatisfaction and a significant driver of support calls for the broadband service provider. Providers have invested heavily in increasing the broadband speeds they can deliver. However, customer perceptions of broadband "speed" or "reliability" is driven more by personal experience.
To support its service provider partners and ultimately improve the Wi-Fi experience for everyone, CommScope's HomeAssure Managed Wi-Fi solution enhances the overall customer experience with Wi-Fi and boosts home Wi-Fi performance. It also assists service providers quickly address customer issues both proactively and, when needed, reactively via the call center. The goal is to deliver Wi-Fi that "just works" anywhere in the home.
CLICK TO TWEET: CommScope's Scott Voegele explains how HomeAssure improves home Wi-Fi performance and coverage, and benefits both the service providers and customers.
Data-driven analytics and proactive service improvement
Service providers have always understood the importance of data for driving service improvement and for solving problems like those noted above. Network monitoring tools have been standard practice for decades. HomeAssure provides a scalable, flexible and secure platform that offers rich insights into subscribers' home Wi-Fi networks. By collecting the widest range of Wi-Fi data in the industry, it provides the essential visibility needed to ensure the best personal Wi-Fi experience via proactive, automated service improvement. Care agents can quickly and effectively resolve issues with confidence, eliminating the tedious scripts and guessing we have all experienced when making a Wi-Fi related customer support call.
The broadband consumer also has access to their home network data via a mobile app that intelligently delivers insights directly to them. In addition to the typical information Wi-Fi apps provide such as displaying connected devices, the HomeAssure mobile app can recommend personalized, simple to understand suggestions for improving the home network's performance. Is there a "coverage hole" in your home? Perhaps you need a Wi-Fi extender. Experiencing slow downloads? HomeAssure has determined your Wi-Fi connection is good, perhaps a reboot of your broadband modem would help.
In a recent analysis, a large service provider leveraging HomeAssure significantly improved throughput and link quality throughout their customer footprint, expanding Wi-Fi coverage by 10 percent even in homes that did not have Wi-Fi extenders. Wi-Fi related support calls were reduced by 20 percent.
It has always been incumbent on all of us in the broadband delivery ecosystem to maintain our focus on the consumer and how they interact with the Internet in their everyday lives. With more of us working, learning, and being entertained at home, HomeAssure can deliver a better Wi-Fi experience than ever before.