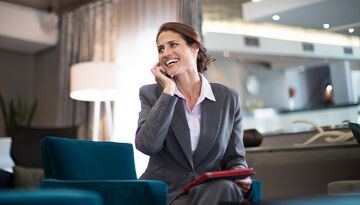 Citizen's Broadband Radio Service (CBRS), dubbed the innovation band, was recently given the greenlight by the Federal Communications Commission (FCC) for full commercialization. This was a major milestone for the CBRS ecosystem and the wireless industry as a whole, as CBRS commercialization means that 150 MHz of brand-new spectrum is now available to meet the nation's growing demand for more airwaves for the existing and new wireless communications technologies.
CLICK TO TWEET: In this blog, CommScope's Rashid Bhatti and Mark Gibson review some of the CBRS history behind Part 90Z to Part 96 transition rules.
Although this new spectrum sharing scheme is a step in the right direction -- and will help spawn innovation and entrepreneurship in innumerable new ways -- it also brings us closer to the end of the grandfathered status of some incumbent users of the band. As part of the Public Notice making the announcement, the FCC reminded existing users of the 3650-3700 MHz band that those frequencies are now part of CBRS: "We also take this opportunity to remind Grandfathered Wireless Broadband Licensees (as defined in sections 96.3 and 96.21 of our rules) that the transition period for grandfathered operations will end on April 17, 2020 or at the end of their license term, whichever is later (with one exception that the transition period for licenses issued after January 8, 2013 will end on April 17, 2020). At the end of its transition period, each Grandfathered Wireless Broadband Licensee must be in compliance with all applicable Part 96 rules."
The April 17, 2020 deadline was later changed to October 17, 2020. However, no changes were made to the requirements for transition. In this post we will review some of the history behind Part 90Z to Part 96 transition rules, how to check the status of your current licenses, and the steps an operator needs to follow for a smooth transition.
Background - from Part 90Z to FCC Part 96
The 3650-3700 MHz service was first created in 2005 when the FCC revised its rules to open the 3650-3700 MHz band for terrestrial wireless broadband operations. Under the licensing mechanism adopted for the band at the time, the FCC issued an unlimited number of non-exclusive nationwide licenses for commercial use. Those licenses served as a prerequisite for registering individual fixed and base stations. Here are some important aspects of this licensing:
As noted above, the band was licensed on a non-exclusive nationwide basis use and a licensee cannot operate a radio in the band before registering it in the FCC's Universal Licensing System (ULS) under its license. Licensees must delete registrations for unused fixed and base stations.
The FCC noted in 2015 that they will issue no new licenses or license renewals after April 17, 2015. However, if a license expires between April 17, 2015 and April 17, 2020, the licensee may request a one-time renewal and the FCC may renew that license for a term ending no later than April 17, 2020. This date was later extended to October 17, 2020. Additional information about this extension is detailed below.
Licenses that were issued after January 8, 2013 will be protected from harmful interference from CBRS users until October 17, 2020 regardless of their expiration date.
Registrations will only be afforded protection from harmful CBRS interference within the licensee's Grandfathered Wireless Protection Zone (GWPZ).
What this means for licensees grandfathered under Part 90Z
In summary, there are three primary conditions that grandfathered licensees must meet to continue operating in the 3650-3700 MHz band under grandfathered status:
You must be a licensed user of the band. Licenses can be looked up in FCC's Universal Licensing System (ULS) at this link: https://wireless2.fcc.gov/UlsApp/UlsSearch/searchLicense.jsp.
In order to be protected from harmful interference from CBRS users until October 17, 2020, the licensee must also have submitted its GWPZ information to the FCC's 'ULS 3650 Locations' database here: https://opendata.fcc.gov/Wireless/ULS-3650-Locations/euz5-46g2/data. The deadline to register this information was August 7, 2017.
Licensees must certify that the base stations were constructed, operational, and in compliance with the Commission's Rules as of April 17, 2016.
It is interesting to note that there are over 2,000 licenses for the 3650-3700 MHz band with close to 70,000 base stations registered as of March 25, 2020. However, there are only slightly fewer than 8,000 registered base stations in the GWPZ database. Could this be because a majority of the licensees were unaware of the requirement to register in the GWPZ database, or perhaps many may have missed the filing deadline?
Can Your License and/or GWPZ Protection be Extended beyond April 2020?
The Wireless Internet Service Providers Association (WISPA) and the Utilities Technology Council (UTC) filed a waiver with the FCC on November 27, 2018 requesting an extension of the transition date from April 17, 2020 to January 8, 2023​. According to the FCC's Public Notice asking for comments to this waiver: "WISPA and UTC seek additional time for grandfathered wireless broadband licensees operating in the 3650-3700 MHz band to complete the transition of their operations to the Part 96 Citizens Broadband Radio Service rules. The transition periods for 3650-3700 MHz band licensees end between April 17, 2020 and January 8, 2023, depending on the grant and expiration dates of each individual license. WISPA and UTC ask that the transition window for all grandfathered 3650-3700 MHz band licensees be extended through January 8, 2023." In addition to this waiver request, several licensees filed their own waiver requests as well.
On March 19, 2020, the FCC granted the WISPA/UTC waiver request, but extended the deadline to October 17, 2020. In doing so, the FCC also dismissed all other waiver requests and suspended acceptance and processing of new site registrations for all Part 90 wireless broadband licensees in the 3650-3700 band.
What do you need to do to transition from Part 90Z to Part 96 (CBRS)?
At first glance, the rules and regulations surrounding CBRS in general, and Part 90Z transition specifically may seem daunting. Although it is not easy for all operators to make this move due to commercial or technological challenges, the process itself is quite simple and straightforward. The goal of this section is to demystify the perceived complexity around the transition process.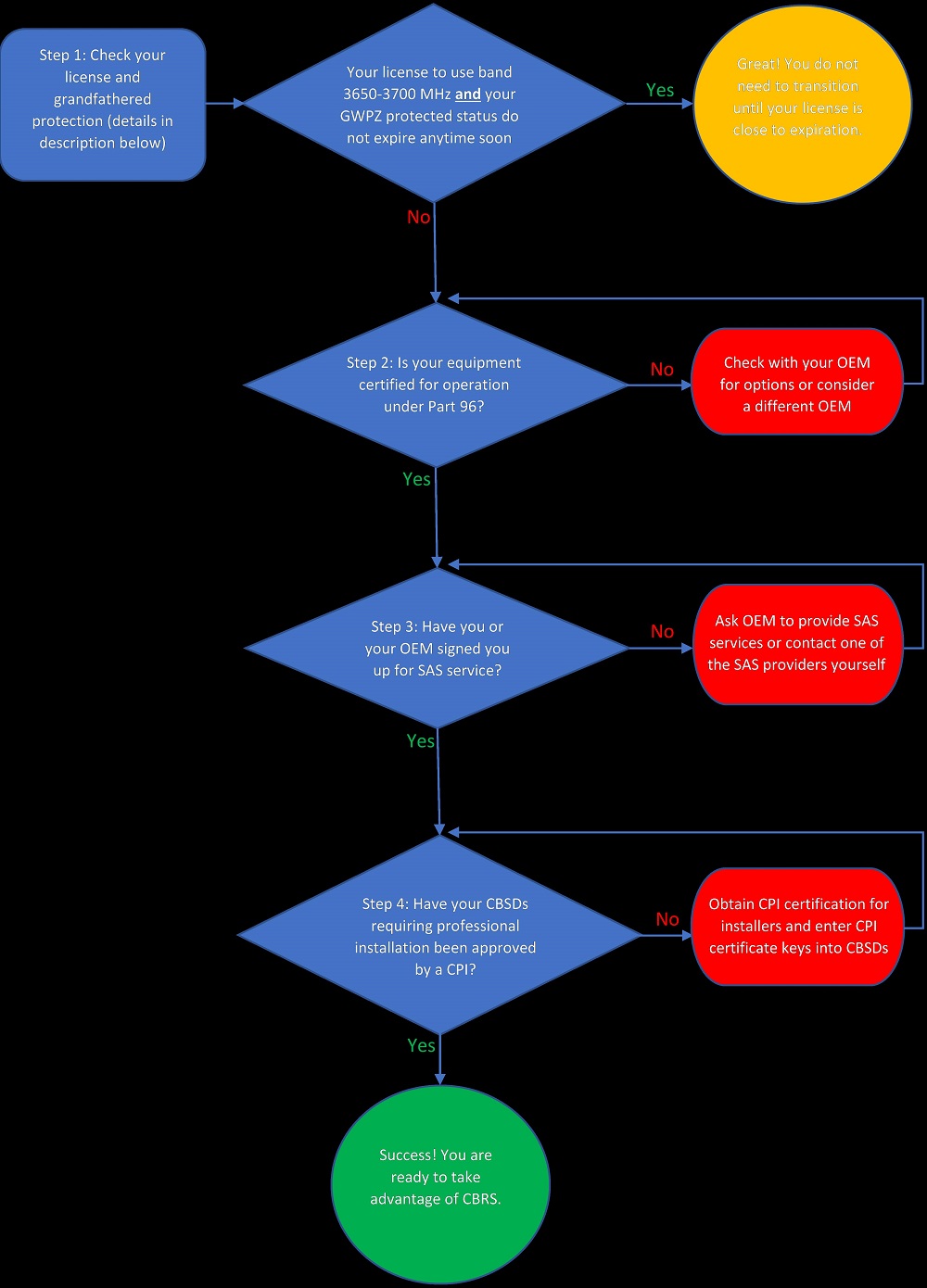 There are four main considerations when transitioning a network from the grandfathered licensee status to CBRS.
Check your license and grandfathered protection. This is a two-part process:
If your license to use band 3650-3700 MHz does not expire soon and your GWPZ protection status is also valid for some time, then you do not need to transition to Part 96 until closer to your expiration date. You should follow the steps above when considering transition and allow for plenty of time.
Your equipment must be certified for operation under Part 96. You can search for your equipment in FCC's Equipment Authorization System or check with your OEM. If the equipment is not Part 96 compliant, unfortunately an equipment swap may be needed. Some manufacturers may be able to achieve the required compliance via a software upgrade. Under Part 96 rules, a radio cannot start transmitting unless it is first granted a channel by the SAS.
You will need to sign-up for the SAS service to enable your CBSDs to operate in band 48. An operator can establish a relationship directly with a SAS administrator like CommScope or through an OEM who may offer the SAS service bundled with their other cloud services. (Note: Some SAS may not recognize that you are a CBRS user as well as a grandfathered licensee and may lock you out of your own GWPZ. CommScope SAS allows users to continue to operate inside of their GWPZ while also allowing access to the lower 100MHZ of Part 96 spectrum.)
Another requirement of CBRS Part 96 rules is that equipment installations of Category-A CBSDs that can't self-geolocate and all Category-B CBSDs must be approved by a Certified Professional Installer (CPI). You can obtain your own CPI accreditation through a CBRS Training Program Administrator (TPA), such as CommScope. For more information on the CPI requirement and criteria for achieving the CPI accreditation, see: https://cbrs.wirelessinnovation.org/cpi-program-administrator.
Conclusion
The CBRS band is fully available and ready to go now. CBRS provides access to 100 MHz more spectrum than Part 90Z and can be used to resolve existing Part 90Z congestion in some areas. Part 90Z licenses will start expiring in October 2020, so licensees should act now to develop and execute their transition plans. CommScope is here to help, offering our SAS services plus CPI training as well as our comprehensive Comsearch Engineering Services. Contact us here to get started.