Wi-Fi Access Points for Enterprise LAN & WLAN
Indoor, outdoor and special-purpose access points that deliver
When connectivity really matters, organizations turn to RUCKUS. We offer indoor and outdoor wireless access points to fit just about any budget, performance requirement or deployment scenario. Whether you're challenged with high client density, Wi-Fi-unfriendly building materials or just rising employee or customer expectations, our access points provide secure, reliable access no matter how tough the environment. Every RUCKUS AP, from the humblest to the boldest, is packed with patented technologies that go beyond the everyday to ensure superior connections and awesome user experiences.
Choose from indoor, outdoor or AP accessories below.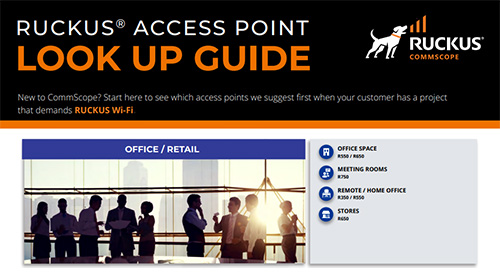 Wireless access point look up guide
Start here to see which access points we recommend you look at first when you demand RUCKUS Wi-Fi.
Inside RUCKUS' access point edge
There are numerous obstacles associated with providing a great Wi-Fi experience. Learn how RUCKUS access points deliver the best wireless performance in the business through our collection of patented technologies and more.
New Zealand Ministry of Education
Ministry of Education (New Zealand) showcases a student-focused network that offers schools and kura access to safe and fast internet services on CommScope's edge networks.
RUCKUS Product Guide
A guide to indoor access points, outdoor access points & bridges, control & management, ICX switches, and monitoring & software.
Services for Wireless Networks
Our global network of professionally-trained and certified experts delivers new wireless solutions for enterprise networks, large public venues and outdoor wireless networks.
Brochure: Why is it so hard deliver reliable Wi-Fi?
Enterprises have struggled with supporting growth and network architecture as the number of connected devices and streaming audio content increases.