ERA®: all-digital in-building wireless solution
For large and medium enterprises, ubiquitous, multi-operator in-building wireless connectivity is increasingly critical for employee productivity, customer satisfaction and even brand reputation. For building owners and managers, excellent wireless connectivity can increase property value. For mobile network operators, neutral hosts and system integrators, the system must be economical to install and manage, and flexible to meet evolving mobile technologies and customer needs.
CommScope's all-digital ERA distributed antenna system makes in-building wireless simpler and more economical. Operating on standard IT infrastructure—Category 6A and fiber—these solutions allow operators, neutral hosts and enterprises to provide high capacity with "five bars" of in-building coverage.
Features and benefits
ERA evolves the conventional distributed antenna system (DAS) architecture by adding C-RAN capabilities. With ERA, you can:
Move all baseband functions across multiple buildings to a single, streamlined head-end or even to the operator's C-RAN hub, reducing the system footprint to save valuable real estate.
Take advantage of an all-digital CPRI baseband interface that eliminates the need for analog-to-digital conversions, further reducing head-end size and power requirements.
Adjust capacity across the network by sector or channel through a web-based drag-and-drop interface.
Select from among a wide range of access points that offer different power levels, copper/fiber connectivity, power over Category 6A cable and embedded MIMO support. Outdoor and plenum ratings allow deployment virtually anywhere.
Comprehensively monitor and manage deployments using CommScope's proven AIMOS management system.
ERA makes in-building wireless solutions simpler to install, easier to manage and less expensive to operate—all while giving operators, neutral hosts and enterprises the room they need to grow as new technologies and applications come to market.
ERA and ION-E
ERA is an extension of the hardware and software architecture that CommScope originally introduced as ION-E. Going forward, all new systems are ERA. Since ION-E and ERA share the same hardware modules, system software and management systems, existing ION-E systems can be updated and expanded using ERA components.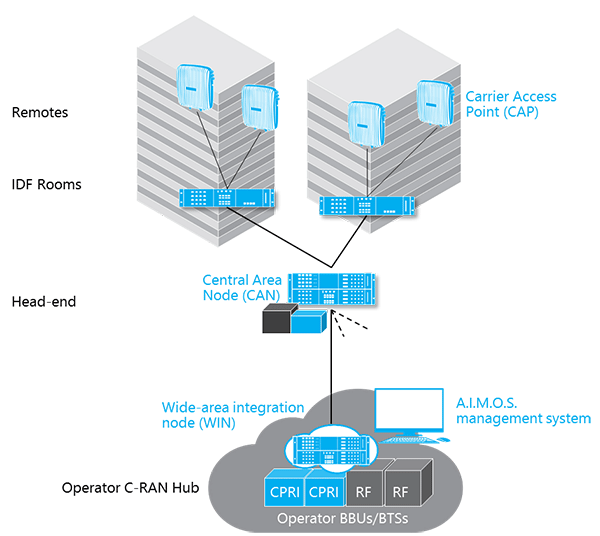 Groundbreaking CPRI Baseband Interface
Through a collaboration with Nokia, ERA features a direct CPRI interface to Nokia's AirScale baseband unit (BBU). This integration collapses the functionality of up to six remote radio units and their associated cabling into a single 300 by 145 mm (12 x 6 inches) card. Head-end space and power consumption are drastically reduced while system capacity is increased.
Safety First
Emergency responder radio coverage is often a requirement in new construction and sometimes even mandated for existing buildings. ERA offers specialized access points that support popular public safety frequencies including band 14 for FirstNet in the U.S. These remotes are available in different transmit power levels to address regional differences in typical building sizes.
At the head end, CommScope offers fire and water protective enclosures meeting relevant public safety standards such as NEMA 4 and NFPA. CommScope also offers a range of multi-band RF repeaters designed for public safety applications. These can be used as a signal source to ERA or on their own with direct coaxial connection to multiple antennas.
Future-Ready
Enterprises, property owners, neutral hosts and network operators need to know that their investments today will prepare them for tomorrow's needs. In-building wireless capabilities are increasingly called upon to support emerging smart building and campus services and the Internet of things (IoT). They also need to support technology evolution to 3.5 GHz bands to support 5G New Radio in Europe and Asia, and Citizen's Broadband Radio Service (CBRS) in the U.S.
ERA's all-digital, frequency-agnostic system architecture ensures that the system will be able to support new services in existing and new bands including CBRS and sub-6 GHz 5G NR. ERA's multiplexed fiber fronthaul can also be shared with other communication services. And as usage patterns change, capacity can be re-allocated through a web-based drag-and-drop software GUI rather than physical re-wiring.
CommScope holds 164 patent families for the technological innovations incorporated in ION-E and ERA.
System description
The system consists of the following components (refer to diagram below):
The wide-area integration node (WIN) resides in the operator C-RAN hub and carries baseband signals to a campus distribution hub. This greatly reduces the on-site head-end footprint.
The central area node (CAN) is located at the campus or building head-end. It digitizes baseband RF signals, combines signals from different operators and distributes them throughout a building or campus.
The transport extension node (TEN) connects to the central area node via single- or multimode fiber. Transport extension nodes distribute signals to access points throughout a floor or building.
A set of frequency-agnostic interface modules are used across the wide-area integration node, central area node and transport extension node:
The RF donor (RFD) card receives analog RF signals from operator base transceiver stations (BTS).
The CPRI digital donor (CDD). For use with ERA, this card receives CPRI digital signals from compatible operator baseband units (BBU).
Optical (OPT) and copper (CPT) transport cards connect to transport links between network elements.
Auxiliary transport (AUT) cards allow pass-through Ethernet connections to other IP endpoints, such as Wi-Fi access points or security cameras, allowing these systems to share cabling infrastructure with ERA.
The system user interface (SUI) card connects to a local control monitor.
Common 2U and 4U sub-racks and power supplies contain and power the card modules.
A range of remote access points that convert the digital signal back to radio frequency (RF) for over-the-air transmission.
The carrier access point (CAP) comes in a range of transmit power and band combinations, with copper and fiber network interfaces. carrier access points are outdoor and plenum rated.
The universal access point(UAP) is a low-power access point that supports software-defined frequencies from 380 to 2700 MHz.
A full range of compact wideband directional and omni-directional antennas in indoor and outdoor versions, including specialized models for stadium under-seat and handrail placement.
An extensive selection of passive devices: couplers, power splitters, tappers, hybrids, terminations and attenuators all optimized to reduce passive intermodulation (PIM) interference and optimize voltage standing wave ratio (VSWR).
UAP
CAP-L
CAP-M
CAP-H
Output power
18 dBm/60 mW
18-21 dBm/60-125 mW
30 dBm/1W
43 dBm/20W
Frequency Bands
4
4
4
4
Antennas
Internal or external
External
External
External
Network Connection
Copper
Copper or Fiber
Fiber
Fiber
Outdoor Rated
No
Yes
Yes
Yes
Plenum Rated
No
Yes
Yes
Yes

ERA provides a range of access points to suit virtually any use case or venue.
Products
Brochure
ERA digital distributed antenna system
In-building wireless solutions
Our wireless solutions are simpler to install, easier to manage, and less expensive to operate with our all-digital ERA® distributed antenna system, providing a path to grow as new technologies and applications come to market.
Services for Wireless Networks
Our global network of professionally-trained and certified experts delivers new wireless solutions for enterprise networks, large public venues and outdoor wireless networks.