Deliver personalized guest experiences
Today's guests have high expectations. At a minimum, they expect blazing-fast Wi-Fi or they won't rebook—and will take to social media to complain. But great Wi-Fi is just the start for sophisticated travelers. They expect a personalized experience from check-in to check-out.
They also expect to be safe—as does your hotel staff.
So, if you're responsible for the hotel network, you've got to find a way to simultaneously meet guest expectations, provide data to marketing, ensure everyone is kept safe and, by the way, help reduce operating expenses.
At CommScope, we're dedicated to helping hotels do just that, starting with our Ruckus hospitality networks. From the world's best-performing Wi-Fi, to IoT solutions for every need, to the reliable fiber, copper and switching infrastructure that underpins it all, we know hospitality. That's why CommScope continues to be an industry leader in hospitality networking.
Solutions that matter to you
One network does it all
Simplify and accelerate IoT deployments—while reducing network cost—by converging multiple protocols (IoT, Wi-Fi, Zigbee, and BLE) into a single network.
Ready to deploy
With our pre-integrated and proven IoT partner solutions, you can trust that it's going to work right out of the box.
End-to-end connectivity
CommScope has you covered—from Wi-Fi to internet of things (IoT) to in-building cellular as well as the switching, fiber and cable infrastructure.
Global leader in hospitality
Leading hotel companies around the world trust their guest experience and network services to CommScope's Ruckus networking portfolio and our highly skilled partners.
State-of-the-art hospitality networks
White paper
Hotels are most highly valued when their occupancy and room rates are high, their operating expenses are well managed and their network infrastructure stands the test of time.
IoT hospitality
Video
See how CommScope's Ruckus IoT Suite and easy to use dashboard simplify multiple IoT device integration and management for hotels and resorts.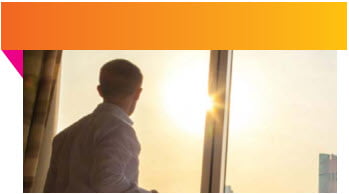 Ruckus controlled access solutions for hospitality
Brief
For hotel operators, the mission has grown to not only provide a pleasurable guest experience with the latest in technology, but to leverage that technology to provide a safe and secure environment for both guests and staff in the facility. CommScope's Ruckus solutions combined with our controlled access partners create a best in class ecosystem for any hospitality property.
Safety Button Solution Brief
Brief
The hospitality industry is using Internet of Things (IoT) solutions like safety buttons to protect employees in emergencies. Now, two industry leaders, CommScope and TraknProtect, are joining forces to make these IoT systems much simpler and less expensive.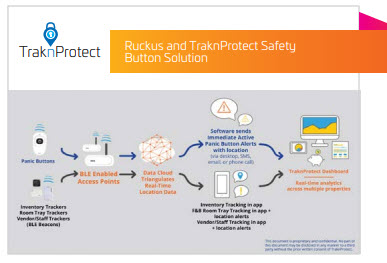 Additional resources
Carrier Wi-Fi Calling For Hospitality

Using Smart Wi-Fi to Deliver a Carrier-Class Voice Offering. While the focus of this brief is on the hotel guest or MDU tenant experience, the benefits and capabilities of Carrier Wi-Fi Calling are equally applicable to employees working in these buildings. By providing robust mobile voice and SMS coverage over Wi-Fi inside their properties, owners can avoid the additional costs of deploying parallel systems for internal communication.

Download
Ordering Guide: Selecting the right Ruckus ICX switch

The purpose of this document is to guide CommScope partners and customers to choose the correct Ruckus ICX switch based on their deployment requirements.

Download
Ruckus / Assa Abloy Hospitality - Delivering Simplified Online Door Lock Solutions

Innovative hotels are using the Internet of Things (IoT) to transform one of the first and most important customer touchpoints: the door locks and key cards on which every guest relies. Joining forces with the global leader in locks, ASSA ABLOY Global Solutions, Ruckus Networks makes it easy to implement smart, secure wireless online door locks—and build a flexible foundation for tomorrow's IoT applications.

Download
Documents
Carrier Wi-Fi Calling For Hospitality

Using Smart Wi-Fi to Deliver a Carrier-Class Voice Offering. While the focus of this brief is on the hotel guest or MDU tenant experience, the benefits and capabilities of Carrier Wi-Fi Calling are equally applicable to employees working in these buildings. By providing robust mobile voice and SMS coverage over Wi-Fi inside their properties, owners can avoid the additional costs of deploying parallel systems for internal communication.

Download
Ordering Guide: Selecting the right Ruckus ICX switch

The purpose of this document is to guide CommScope partners and customers to choose the correct Ruckus ICX switch based on their deployment requirements.

Download
Ruckus / Assa Abloy Hospitality - Delivering Simplified Online Door Lock Solutions

Innovative hotels are using the Internet of Things (IoT) to transform one of the first and most important customer touchpoints: the door locks and key cards on which every guest relies. Joining forces with the global leader in locks, ASSA ABLOY Global Solutions, Ruckus Networks makes it easy to implement smart, secure wireless online door locks—and build a flexible foundation for tomorrow's IoT applications.

Download