In this mini-blog series, we are highlighting three drivers that are re-shaping enterprise building and campus networks in this new era of hyperconnectivity:
Bandwidth
Power
Design adaptability
So far, we first introduced the concept and challenges of hyperconnectivity. In our second installment, we looked at the issue of provisioning enough bandwidth to carry the network well into the future. Our third blog took up the issue of power. Here, in the final post, we consider design. How do you take hyperconnectivity from here to there? Read on.
What's driving device distribution?
As we've noted in this blog series, most network-connected devices are being deployed at the edge—closer to where the data is being generated and consumed. In industries such as manufacturing, distribution, warehousing, healthcare and education, capabilities including sensors, monitors, RFID tracking and wireless access points are critical to the core function of the enterprise.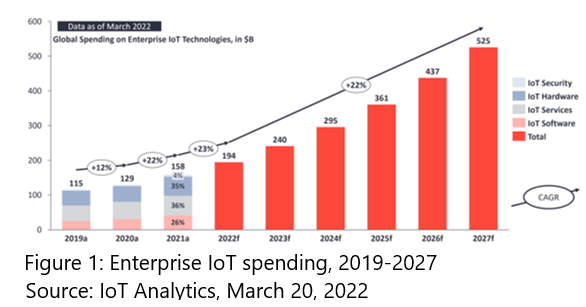 Diving a bit deeper, we see that connected devices fall into two major categories. The first category consists of machine-to-machine (M2M) devices. Think building automation and control, manufacturing sensors and intelligent lighting. These devices are distributed throughout the enterprise regardless of where end-user activity is occurring. Their process-based operations mean data and power requirements are fairly predictable.
The second group of devices are those requiring some level of end-user interaction: wireless access points, health and activity monitors, security cameras, etc. Their deployment is based largely on the distribution of human activity across the enterprise. From a network infrastructure perspective, these devices need more dynamic data and power resources.
For both M2M and end-user-based devices, faster deployment and seamless scaling are critical issues. The rate at which devices are being on-boarded is making it hard for network managers and installers to keep up. This underscores the need for a more flexible and adaptable structured cabling approach. The point-to-multipoint architecture makes it far easier to add and upgrade new device links without touching the backbone cabling.
A grid-based approach to design
Even with a structured cabling design, network designers must still get power and data from the edge of the network to every device, as they do with the "last mile" problem in a cable network. One of the easiest and most flexible ways to do this is using a grid-based design.
In a grid-based solution such as CommScope's Universal Connectivity Grid (UCG), the entire building/campus is divided into "cells" laid out in a grid. Each cell, typically no bigger than 60 feet x 60 feet, is served by a consolidation point (CP) that connects via Category 6A cabling to the enterprise network. CPs are located in or near the ceiling to enable a straight horizontal run to each device. Such a grid-based approach provides a consistent yet flexible design that enables you to add, update and reconfigure devices and systems at relatively low cost and disruption to your business.
Using Category 6A cabling ensures support for multiple current and emerging applications, including in-building wireless, wireless LANs (WLANs), sensors for health and safety, building automation and access control.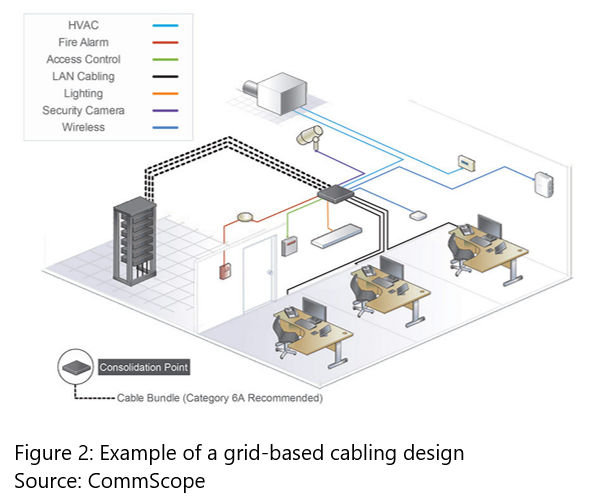 In collaboration spaces with heavier wireless requirements, CPs can provide power and connectivity to more WLAN access points. WLAN and wired connectivity can support focused workspaces in a shared desk area and also support systems that detect occupancy, to let others know what space is available or to notify custodial services that a space should be cleaned before someone else can use it.
Application guidance
To help ensure you get maximum value and longevity from a grid-based design, CommScope offers the following advice:
Use a structured cabling approach standardized on Category 6A cable
Locate consolidation points at least 15 meters (around 50 feet) from the telecom room, while maintaining the maximum 100meter channel length
For channel lengths longer than 100 meters, hybrid fiber-optic cable can be used to power remote devices
The maximum suggested UCG service area (based on TIA-162-A) is 60 feet x 60 feet
With a more capable and flexible network infrastructure, enterprise buildings and campuses can continue to evolve and grow, supporting ever-advancing applications. CommScope is proud to provide the strategies, solutions and services to help you make it happen. For more information on our Universal Connectivity Grid or our other enterprise network solutions, contact your CommScope representative. Together we're bridging the gap between now and next.