In this four-part blog series, we are highlighting four of the key drivers that are re-shaping enterprise building and campus networks:
Hyperconnectivity
Bandwidth
Power
Design adaptability
Our first installment introduced the concept and challenges of hyperconnectivity. Our second installment looked at the issue of provisioning enough bandwidth to carry the network well into the future. Today, we turn our attention to powering hyperconnected networks. Let's dive in.
Getting power to the edge
If you read our second installment on bandwidth, you know that many devices being deployed are clustered at the network edge. In addition to needing a data connection to the network, nearly all devices require power—and their power requirements are growing as the business use cases evolve.
There are basically two options for delivering reliable and sustained power to connected network devices. The first option involves running a separate power network alongside the data network. A discrete power network enables you to run any device, regardless of power requirements, but tying into the power mains is expensive and requires an electrician each time you want to add a device.
Increasing use of PoE
The second option, Power over Ethernet (PoE), carries both power and data over the same Ethernet cable. Because PoE converts main power to a low-voltage supply before injecting it onto the cable, devices can be safely connected and turned up without an electrician. For applications such as VoIP, wireless LAN and IP security, a PoE has the potential to reduce overall installation costs by half.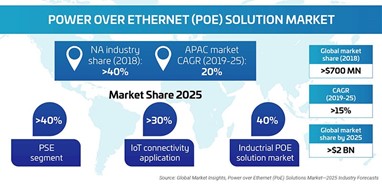 A wide variety of powered devices are being deployed across enterprise networks. With the adoption of PoE++ and its 90-watt capabilities, the list is rapidly expanding. In a March 2020 article, Cabling Installation & Maintenance noted: "The growth in PoE deployment is being driven mainly by the convergence of several technology and socio-political trends, including smarter buildings, higher levels of energy efficiency, greater mobility, the upsurge of IoT, energy and building regulations, the so-called Industry 4.0 and the massive adoption of LEDs." [i]
Infrastructure considerations for PoE
For PoE deployments, Category 6A cabling offers the best balance of power, data and distance requirements. For Ethernet, the higher the cable's category number, the better it supports higher current loads. More specifically, Category 6A offers especially good endurance to the heating of the bundle—enabling it to perform better at longer distances.
As the network's edge (along with all the edge-based connected devices) moves further from the core, the ability to safely traverse extended distances becomes an essential criterion. It's one of the keys reasons the Telecommunications Industry Association (TIA), International Organization for Standardization (ISO) and International Electrotechnical Commission (IEC) recommend Category 6A cabling for four-pair PoE applications.
If you do not have or do not plan to deploy Category 6A, it is still possible to use PoE; it just becomes a bit more complicated. To ensure your existing cabling can support your PoE applications, you need to consider factors such as the types of cables, cords, and connectors to be used, bundling configurations, cable routing lengths, building topology and more.
Application guidance
To help ensure your power network is up to tomorrow's challenges, CommScope offers the following advice:
Deploy Category 6A cable—especially for four-pair PoE applications
Use two cable runs per connected device to ensure maximum headroom with twice the number of zone distributions in the future
Review the structured cabling standards in TIA 568, ISO/IEC 11801 and CENELEC 50173; they contain additional requirements to ensure the connector contacts do not corrode or fail when unplugged while under load
Join us for our final post on hyperconnectivity as we discuss the importance of design flexibility. In the meantime, if you want to further explore the issue of power and data, check out our white paper: Laying the groundwork for a new level of Power over Ethernet.