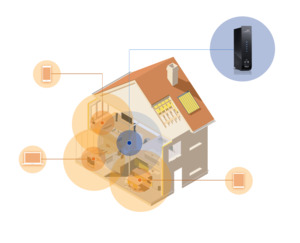 With an increase in telecommuting and eLearning due to COVID-19, we are relying on our home networks more than ever for increased productivity. Not only do we need reliable connectivity, we also need a network that is secure.
Unfortunately, when our network is not safeguarded, it can be a playground for potential security risks and vulnerabilities. Here are several tips that you can take to help make sure your wireless network is protected:
Change your default network username, password and Wi-Fi passkey frequently
Ensure your primary Wi-Fi network is using a secure encryption
If you're using a web-based portal to access your network settings, make sure you change the username and password
Never share your login information
Setup a guest network, if available. Guests can use this network for gaming or streaming without accessing your home network traffic. If you leave this network open (unsecured), make sure your family does not use this connection to conduct any personal or business transactions
Download an antivirus and security software to help protect your devices against viruses, malware and other online threats. Keep an eye out for suspicious emails and pop-up ads; Turn on pop-up blockers on your web browser
If possible, access a virtual private network (VPN) for internet connections
CLICK TO TWEET: CommScope's Evan Groat provides you some easy tips to follow to secure your home network.
If your home network is several years old, then consider upgrading your network equipment. There have been many great advancements in technology during the past few years to get you better range, coverage, speed and security.
If you have any questions, please use our live chat for support. Be connected and safe during these trying times.
Additional resources: