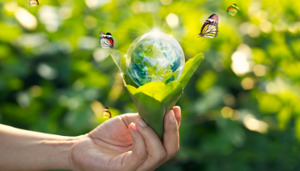 Here at CommScope, we're obsessed with progress. Our innovation reflects not only our vision for tomorrow's technology, but for tomorrow's world. And we envision a world where technology is as powerful as it is sustainable.
As part of our ongoing efforts to reduce our impact on the environment, we've been eliminating single-use plastics from our packaging and product designs—specifically for our service provider customer premises equipment and Ruckus branded products.
Our Home Networks team has now eliminated single-use plastics on all new set-top products outside of the Americas. We plan to work with service providers to gradually phase this in globally across all new Home Network products. Our goal is to be free of single-use plastics on all new service provider product launches by the end of 2020! As the leader in customer premises equipment globally—with up to 40 million devices shipped annually—this represents a significant step forward in our sustainability goals and vision.
CLICK TO TWEET: Anthony Zuyderhoff explains how CommScope is working to eliminate single-use plastics from some of its products.
Our Venue and Campus Networks team is also aiming to go global and eliminate single-use plastics from packaging for all ~1,000 Ruckus branded products.
"Global customer reception to our single-use plastics initiative has been very positive, and requests for similar programs have been coming in from customers all over North America," said Anthony Zuyderhoff, senior vice president, Home Networks Video business. "We're also expanding our sustainability vision by using more post-consumer resin, otherwise known as recycled plastic, in our housing designs for set-tops. We've already achieved 90 percent usage with KPN in the Netherlands, and we're just getting started."
Our accelerated work with global leaders to eliminate single-use plastics and redefine sustainability offers a glimpse at what we can accomplish with the right vision and strategy. Being a good corporate citizen means not only innovating for the good of our business or our customers, but for the good of the planet.
Find out more about CommScope's sustainability initiatives here.