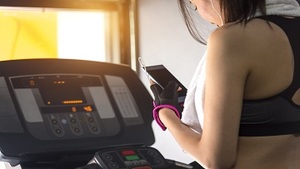 At this year's CES, CommScope will be in Las Vegas to share our vision for tomorrow's connected consumer experience with our customers from around the world. The landscape has changed. Networks are faster, growing more complex and interconnected by the day. So are devices. And the services that bring them all together are more intelligent and demanding than ever. That's why we've realigned our business, empowering our global customers to transform the way consumers connect with their digital lives—at home, at work, in public, and on the move.
We're leveraging 5G and new spectrum. We're innovating around advertising in entertainment. We're accelerating cloud-based network management. We're reducing network latency. We're bringing the fastest, most intelligent Wi-Fi® to homes around the world. We're also making those homes smarter, and we're doing the same for cities.
This is how we're powering progress.
At CES, in a private suite, CommScope subject matter experts will share our latest technology solutions for enabling services of the future. We've organized our portfolio demonstrations into four key experience areas that address tomorrow's most compelling consumer use cases:
CLICK TO TWEET: Charles Cheevers explains how CommScope will share its latest technology solutions for enabling services of the future during next week's CES.
Future Home
Multi-gigabit broadband home getaways with high-performance, whole-home Wi-Fi are just the first steps for creating the smart connected home. With the introduction of Wi-Fi 6 capable devices we are now going one step further and accelerating the huge performance gains of Wi-Fi 6 with the introduction of the new 6GHz spectrum potential expected later this year. This new capability will be called Wi-Fi 6E and will ensure the 4x speed boost and scheduled lower latency services are enjoyed by consumers in 2021 Wi-Fi solution offerings.
Wireless connectivity needs lower latency to support time-sensitive applications like ultimate gaming and VR/AR immersion. It also needs secure deterministic connectivity to provide the platform for new home services that drive new business opportunities and new levels of engagement with subscribers. At CES 2020 we will feature demonstrations that show the real potential of Wi-Fi 6E that include:
Low-latency and deterministic Wi-Fi 6E services
6GHz Wi-Fi 6E for backbone connectivity and the new home wireless backbone
6GHz Wi-Fi 6E capable STB for improved video QoS and future platform for high capacity 4K, 8K and VR services
Container-based gateway apps showing a new Software Delivery Platform paradigm for easy addition of new services to the home
HomeAssure V3 cloud managed mesh Wi-Fi solution and ML based analytics services management of the home
CBRS & 5G Fixed Wireless Access Gateways showing new paradigms in self install
Future Entertainment
The Smart Media Device enables new voice-visual and aggregated media services for improving subscriber engagement. Leveraging the operator's position as the primary HDMI connection to the main screen, we can employ advanced platforms like RDK and Android TV to create next-generation user experiences. Featured demonstrations include:
Voice-visual services enabled by

Smart Media Devices
Advanced video set-tops using next generation video platforms such as RDK and Android TV
Future Connectivity
Public wireless and Wi-Fi networks will form the backbone of Enterprise and Smart City networks. We'll share new methodologies for developing managed services on top of existing and future wireless networks that leverage breakthrough CommScope technologies and our expertise in network design, system integration, and management. Featured demonstrations include:
Smart Poles with LTE, IOT, CBRS, and Wi-Fi convergence
Targeted Advertising
Ruckus IoT suite & Outdoor APs
Vertical-specific solutions:

Hospitality IoT solutions
Venue high density wireless
Video streaming for Schools
Future Video Platforms
These new platforms address the growing demand for streaming IP video as well as new methods for generating ROI using targeted ads and personalized content. These tools can create new revenue opportunities while evolving consumer experiences across apps and ads on video set-tops and OTT devices.
Targeted advertising and alternative content– featuring zone-based ads and emergency alert broadcast to set-tops, tablets, and OTT devices
Personal channels – individualized on-demand channels with targeted ads
Contact us at here to request a meeting. We look forward to seeing you at CES!