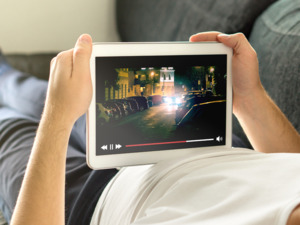 The coming year will mark a tipping point for key network, customer premise equipment, and smart home technology that's been in the works for years. The confluence of technologies such as DOCSIS 4.0, 6GHz spectrum, and Wi-Fi 6 are pushing a range of new services in the realm of reality. Whether it's 10Gbps access speeds, more pervasive and powerful home networks, or visual assistants—a range of exciting trends are emerging to improve the customer experience and drive new levels of service capability for internet service providers.
The following are the most important changes we expect to see in the home in 2020 and 2021:
WAN Access Speeds

Speeds will increase to 200Mbps on average, catering to new services like cloud gaming.
Priorities will shift from simply achieving faster raw speeds to getting low-latency performance to support new gaming and virtual reality services.
XGS-PON will offer 10Gbps burst capabilities, and more 10Gbps access technologies will begin to emerge.
The new DOCSIS 4.0 standard will be validated, enabling 10Gbps lab bring-ups in 2021.
CLICK TO TWEET:CommScope's Charles Cheevers explains why 2020 will mark a tipping point for key network, customer premise equipment and smart home technology.
WAN Access Types: Rise in Wireless-Based Fixed Broadband

PON- and Fiber-based greenfield deployments will continue to increase alongside overbuilds of networks, especially to service 5G gNodeB installations.
Fixed Wireless Access opportunities will see greater recognition as well as deployments on both mmwave and sub 6GHz CBRS 3.5 spectrum and the start of aggregated frequency use on new 5G NR-capable devices.
Fiber-deep HFC architectures will continue to gain traction with more and more node splits and DAA architecture rollouts on DOCSIS networks.
WAN connections will grow more resilient with an increasing number of applications requiring a higher availability of WAN access.
More wireline solutions will offer LTE/CBRS or 5G NR redundancy solutions.
Residential Broadband Gateways and Wi-Fi

Wi-Fi 6 will achieve greater adoption for its improved performance and range, even in mixed Wi-Fi 5 environments

Increasing range will be a key driver in shipping more Wi-Fi extenders, especially with Wi-Fi 6.

Architectures will prepare for the inclusion of 6GHz spectrum, with Wi-Fi 6 emerging as deployed devices in the first half of 2021

Service providers will lead on the use of new spectrum by owning bookend applications like multi-AP, 4K video to STB, and low-latency gaming support.
Laptops and virtual reality headsets may be the first consumer electronic devices to take advantage of this new Wi-Fi 6 clean spectrum.

New use cases for Wi-Fi access point capabilities will emerge—to detect motion, improve radar and imaging applications with finer movement granularity—ranging from replacing basic Passive infrared sensor functionality to other health and motion monitoring applications.
Residential Set-top – Transition to Smart Media Devices

Basic set-tops will evolve to include far field voice, speakers, and visual assistants, leveraging the demarcation of this device in heavy-trafficked rooms and capitalizing on the trend of visual assistance.

CommScope have termed this new class of device a Smart Media Device or SMD
They will support new Machine Learning and AI driven applications

2x2 Wi-Fi 6 IP set-tops will increase in popularity, improving the performance of Wi-Fi 6 at range.
4K HDR content will continue to see higher and higher consumption rates.

Currently, the average bit rates of IP video digested is 4Mbps in the home.

This rises in quality each year, but typically is adaptively rate shifted because of Wi-Fi performance issues.

Average bit rates are growing at about 400kbps per year, but 2020/2021 will see an acceleration to higher rates as a result of increased 4K consumption with streaming platforms and operator-led video on demand.

We'll see the "amplification" of the video experience.

Unified search and ease of integrating new apps are hot topics here.
"Middleware" will move to a service delivery platform.

Video delivery will see greater AV1 codec usage.
IOT and Smart Speakers

Main Voice AI services will be increasingly included in service provider solutions.

There is a strong desire to add voice assistance to devices ranging from GW to AP's, Wi-Fi extenders to IoT hubs, and of course the set-top to SMD

Multiple Wake Words will be available on devices.

Service providers will offer the consumer the AI assistant of their choice – Alexa, Google Assistant, Siri, Cortana and others – but they also offer their own Wake Word to offer specific SP skills such as "What's my Wi-Fi password? or "Show me my current bill," which will be unique to their service offering

Third-party software-based IoT hubs will be integrated into service providers devices for first forays into new Smart Home and Home Automation initiatives.

The gateway, Access Point, and the SMD will serve as the new service providers hubs
The IOT experience will be on both the smartphone app and the TV screen in the home
Delivery and Virtual Network Functions for New Home Services

2020/2021 will see the rise of containerized drop-in services, where applications can be pointed to the consumer home and 'dropped' into the service chain without having to upgrade the monolithic firmware
The number of GW and STB applications will be far fewer than those on smartphones—holding to key services such as security, Device Fingerprinting, IoT, Motion Detection, Wi-Fi RRM, and Parental Control.
Low-latency helpers will all emerge to be simply 'dropped' into the home.
New containerized software platforms like Docker and LXC as well as improved hardware platforms with higher MIPS/DRAM and Flash will all facilitate this new cadence of service delivery.
5G to The Home, and Within the Home

FWA solutions for 5G NR across the sub 6GHz and millimeter wave bands will grow in adoption.
There will be more innovation around the ability to self-install FWA equipment on windows to allow rapid overlay of FWA services in MDU and dense population areas.
While Wi-Fi will remain the predominant home attach LAN solution, more innovation will center on increasing the % of time smartphone users tap into 5G vs LTE in the home for consumer satisfaction on 5G smart phone purchases.
We'll see innovation around millimeter wave 5G repeater and beamforming technology not only to the home but throughout the home, with the emergence of new generation internal 5G repeaters or 5G femto cells.
Machine Learning and improved Data Models

Huge improvements in new Broadband and Video Telemetry will be augmented by IOT device data models utilizing protocols like USP and Data Elements.
There will be greater transparency of device and service usage in the home with much more emphasis placed on developing key ML applications for consumer proactive Self Help and other consumer services opportunity.

With new privacy requirements like GDPR in Europe, all these solutions will be developed within the rules and frameworks of these new consumer privacy requirements.
As you can see, the next two years will be packed, as we see the real-world deployment of our industry's most exciting technologies get underway. The big question for vendors and operators is how to make smart investments to capitalize on these large technology shifts. We encourage you to reach out to find out what you can to stay ahead and be positioned for success. Keep in touch and stay tuned.