Automated infrastructure management (AIM): the Fact File
Automated infrastructure management: the Fact File
Automated infrastructure management (AIM): the need to do more with less
Do you know how many switch ports you have currently available?
Can you locate any specific device in your network anytime and from anywhere?
Can you solve a cabling alert from a remote site without having to actually go there?
Do you know which outlets the laptops of your colleagues are physically plugged into?
If you want to learn more about how the automation wave has been changing cabling management and is now moving into using robotics and augmented reality, keep reading.
As the business and technology world continues to evolve, networking infrastructure just keeps improving. We have no choice. We have to connect more people at higher speed in more places than ever before.
As the performance of the network increases, though, so does its complexity. Heavily meshed leaf-spine architecture and point-to-multipoint connections make the orderly management and supervision of these networks difficult. On top of that, space is increasingly at a premium—giving us higher densities of ports on shelves, and an increase in the chance of human errors.
Oh, and as for the humans themselves, they are thinner in number and under more pressure than ever.
Fortunately, the network managers have automated infrastructure management (AIM) systems to support them, and this game-changing technology is described in greater detail in this fact file.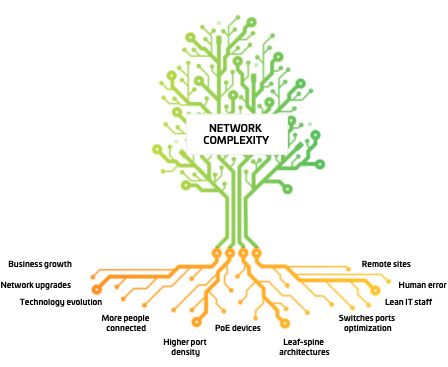 Would you like to read offline?
Download a PDF version of this article to read again later.
Stay informed!
Subscribe to The Enterprise Source and get updates when new articles are posted.
Anytime and anywhere
Without an AIM system in place, it is very difficult—if not impossible—to properly supervise the physical layer of your network if you are off-site, whether this means working outside office hours, during holidays, or simply dealing with remote sites.
Traditionally, one of the applications of AIM has been to flag up any unplanned disconnection of a key system. The management of remote sites gets a lot easier when status can be constantly monitored from anywhere. An advantage of AIM becomes a need if the remote locations are small-sized and do not warrant the on-site continuous presence of IT staff.
AIM systems are designed for remote management and monitoring of all infrastructure cabling, connectivity and performance. For example, some AIM systems can generate electronic work orders and send them directly to the system controllers.
The controllers then display on-screen instructions, thus eliminating a need for paper-based instructions, while the intelligent patch panels track implementation of these work orders in real time and enable the system to automatically record the successful completion of a work order.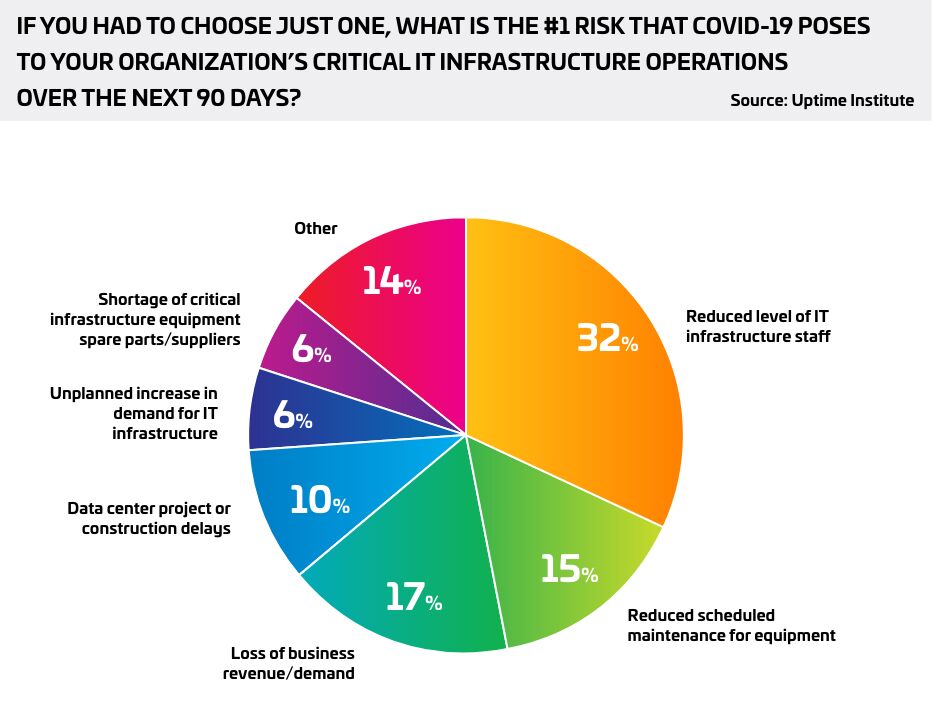 Use of AIM systems can also minimize or perhaps even eliminate a number of site trips by non-local IT technicians to implement work orders. By providing clear and easy-to-follow instructions directly at the racks, the system can support implementation of connectivity work orders by mostly anyone. Practically any on-site individual—from engineers to security personnel—can execute the required tasks.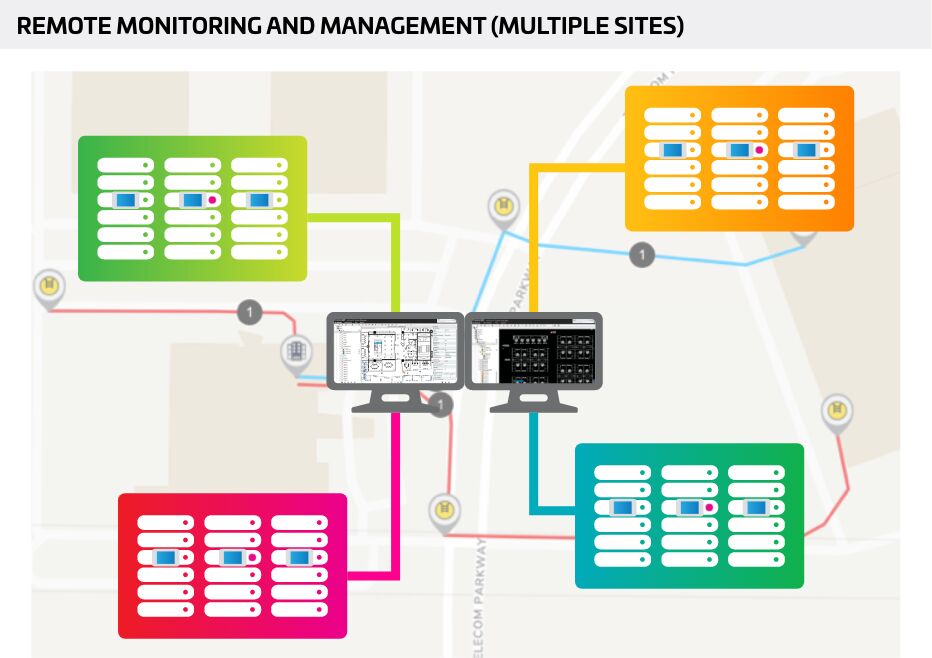 AIM systems like CommScope's imVision provide real-time visibility, which means that, if the task wasn't done according to instructions, the requester will be notified in real time and can contact the on-site individual to work through any difficulties.
In recent years, remote network management solutions have proven increasingly valuable—enabling tech response teams to work faster and more efficiently. In 2020, these systems quickly became a critical must-have for safe and responsive data center management. As early as April 2020, Data Center Knowledge reported: "Colocation providers are using online data center infrastructure management customer portals for remote monitoring and IT support ticketing... Colocation providers are also promoting their remote-hands services. These services cover things like IT equipment moves and additions1."
Find out more in this white paper: imVision® addresses needs for remote network management due to pandemic
1 https://www.datacenterknowledge.com/uptime/colo-customers-lean-remote-data-center-management-tools-amid-pandemic
Applications in commercial buildings
Managing Power over Ethernet (PoE)
With the rapid growth in power over Ethernet (PoE) devices and applications, some AIM solutions provide the ability to monitor power distributed over the structured cabling—from power source equipment (PSE) to powered devices (PD).
Single management platform for building applications
As more and more building applications (such as Wi-Fi, IP security, LED lighting, and high-definition audio/visual) utilize twisted-pair cabling, AIM provides the single management platform for the physical layer—tracking what had historically been separate IT and facilities networks.
Tracking end devices
With the proliferation of the number and variety of device types in smart buildings, AIM can provide location information on all connected devices. The location of wired devices can be made down to the outlet, and wireless devices can be tracked to the Wi-Fi access point with which they connect. This level of insight can help quickly identify and locate devices and users that may not be compliant with corporate network utilization policies, virus-infected computers, or devices that are not authorized to be connected to the network.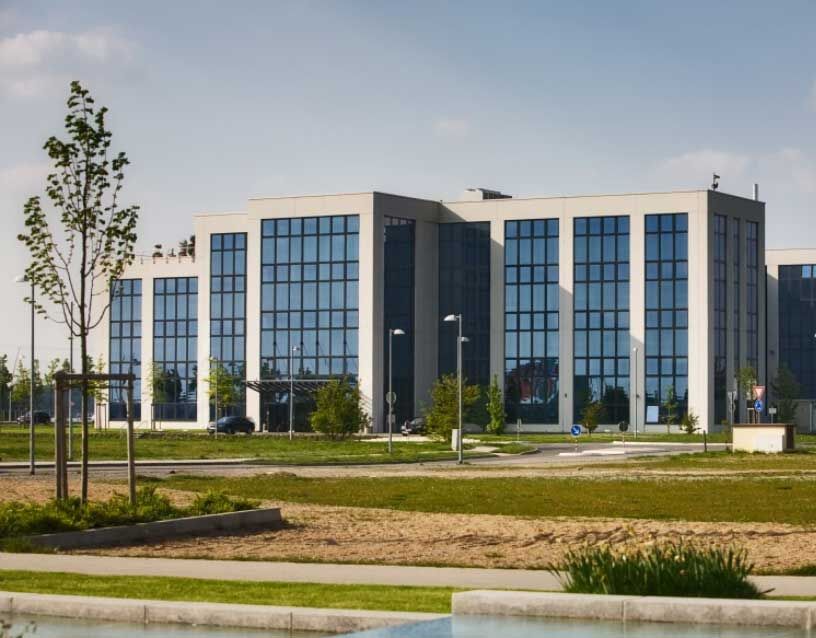 Applications in the data center
Manages ever-higher fiber port densities
AIM helps manage ultra-high-density systems: For example, CommScope's imVision can handle up to 576 fiber strands in a 4U LC duplex shelf configuration. The minimized footprint helps contain rack space costs while reducing the risk of manual error in patching in an ultra-high-density environment.
Manages point-to-multipoint connection
AIM helps manage point-to-multipoint connectivity, which has become commonplace with the advent of 40G, 100G and emerging 400G Ethernet connections.
Manages switching fabric for leaf-spine architectures
Provides visibility, intelligence and control to meet the challenges associated with tracking the high number of interconnects in leaf-spine architecture, which has become a commonplace network architecture.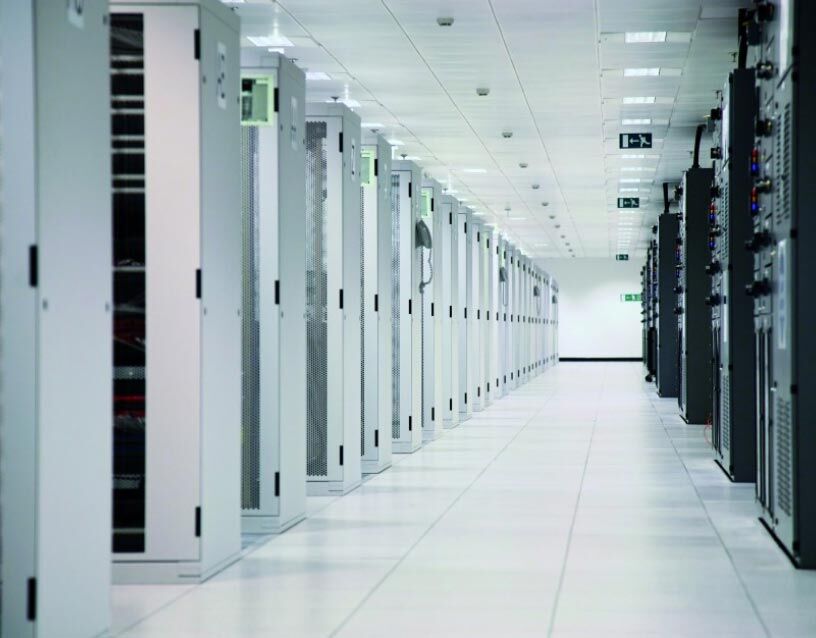 Monitoring power over Ethernet (PoE)
As networking infrastructure is increasingly used to carry power as well as data, so the task of network management becomes more complex. An automated infrastructure management (AIM) system such as CommScope's imVision solution can automate such recordkeeping to help ensure standards-compliant designs are documented. It does this by correlating the real-time switch power usage per port with cable bundle size and cable type, since recommended bundle sizes are stipulated in TIA, ISO/IEC and CENELEC standards.
The number of cables in a bundle is a static number; however, the status of cabling related to PoE and data delivery changes due to the dynamic nature of connectivity between switch and panel ports.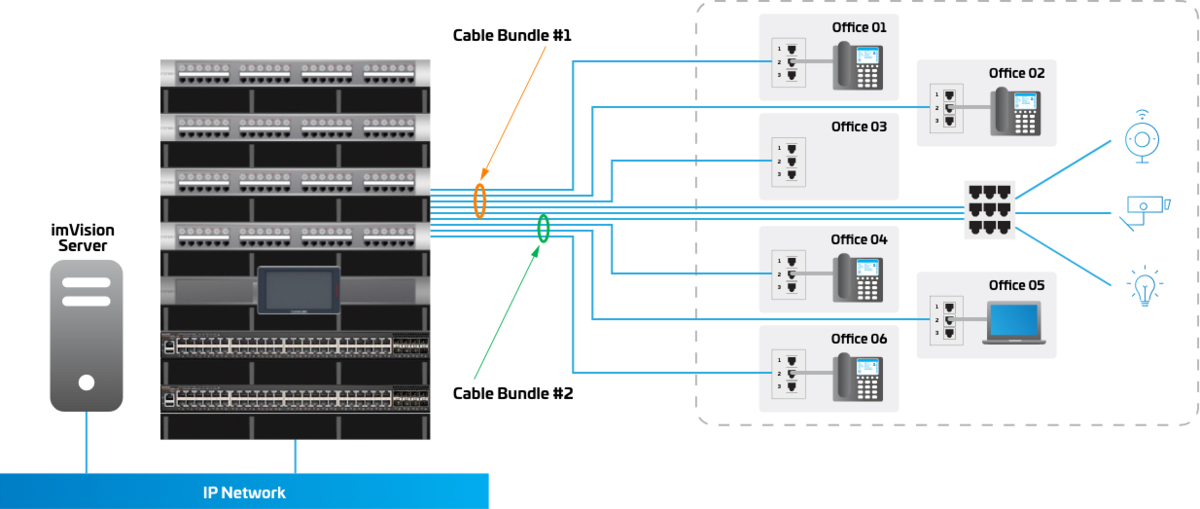 Whenever connectivity changes are made, the AIM system automatically updates the cable status within a cable bundle, thus providing a real-time view of every cable bundle's PoE state.
Most of the guidelines in cabling standards define a maximum cable bundle size based on the most demanding scenario of having all cables in a bundle delivering PoE Class 8 current (90 watts), as defined by the IEEE 802.3bt standard. However, in practice, not every cable in a bundle could be energized—or, if it is energized, it may not be to the level of PoE Class 8 current.
AIM systems like imVision automatically monitor the PoE state of each cable within a bundle in real time, so bundle sizes do not have to be constrained by the maximum size per the guidelines. Instead, network managers have the flexibility to use whatever bundle size is suitable for that installation.
Power over Ethernet is evolving fast and the number and variety of PoE-enabled devices in the enterprise continue to increase—underlining the need for sophisticated automated management tools. Several factors are driving this, including:
4PPoE standard (IEEE P802.3bt), delivering up to 90 watts to end devices
Convergence of IT and facilities onto a common IP/Ethernet platform
The internet of things (IoT) and its ever-growing ecosystem of connected devices
Augmented reality
AIM solutions are designed to help IT managers monitor and control most aspects of their network infrastructure—from tracking down a stranded switch port to troubleshooting a connectivity issue—in a matter of minutes versus hours or days.
But augmented reality takes it a step further. What happens when you have equipment and cabling hidden behind walls and ceilings? How about if you walk into a room with multiple panels and unnamed/unmarked ports? By incorporating AR capabilities into AIM, companies like CommScope are aiming to dramatically speed up troubleshooting and provisioning tasks.
The principle is that, when network managers look at something like a rack containing servers and switches, the AR headset superimposes (overlays) all sorts of additional information over what they are seeing, such as port numbers and other data. Similarly, if they walk into a room and look up at the ceiling, their AR headset will augment what they are seeing with graphical depictions of whatever is hidden out of sight, such as cabling and other equipment.
Since 2018, CommScope has been working with various partners on exploring use cases for AR technology that would potentially take AIM to a new level in addressing customer needs. A good example would be enabling a user to expediently identify, locate and navigate to a piece of faulty equipment, identify accurate placement and installation of new equipment, or access step-by-step guidance for maintenance tasks.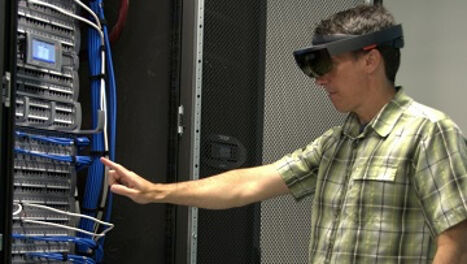 Augmented reality in the age of COVID
Given the recent need for both remote working and social distancing, CommScope has been using an AR platform (a third-party off-the-shelf solution, not integrated with imVision) to enable field personnel to connect with an expert within the company to guide them in carrying out maintenance activities thousands of miles away.
The processes associated with configuring hardware components requires a certain knowledge and skill set, and customers have been unable to have an expert on-site due to the pandemic. Through the above-mentioned third-party AR platform, a remote expert has been able to use the tool to remotely guide less knowledgeable personnel through the hardware configuration. The computer vision algorithms allow the user to attach virtual texts and symbols such as arrows, warning signs, and circles to provide and receive indications during remote support sessions.
In a post-pandemic world, AR will still have great economic advantages. Augmented reality means a considerable decrease in travel costs and the completion time of the operation. At the same time, other advantages may be the quick and interactive knowledge transfer and the ability to maintain a high level of customer service. Whichever way you look at it, AR is likely going to make AIM systems more effective, easier to use and beneficial to the business.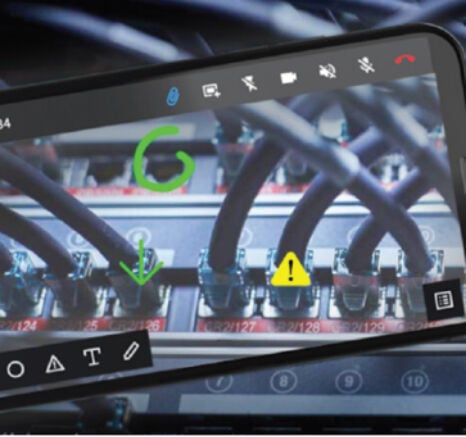 AIM and robotics
Augmented reality is not the only new technology that will enhance the way we manage our network infrastructure. Prototypes of data center robots have been produced that integrate with AIM systems, —taking their instructions directly from AIM and making the necessary adjustments to the hardware. Without human error!
Source: NTT Technology Experience Lab (Frankfurt / Main, Germany)
How Automated Infrastructure Management is showing its human side
AIM is not only about software-driven automation, it helps make people operate more effecitively too.
Read