600039-001-00 | Multicast Adaptive Bitrate (MABR) Solution
600039-001-00 | Multicast Adaptive Bitrate (MABR) Solution
Available in:
Asia
Australia/New Zealand
EMEA
Latin America
North America
Multicast Adaptive Bitrate Solution optimizes Pay TV operators' bandwidth by utilizing IP multicast to improve unicast streaming delivery.
Features and Benefits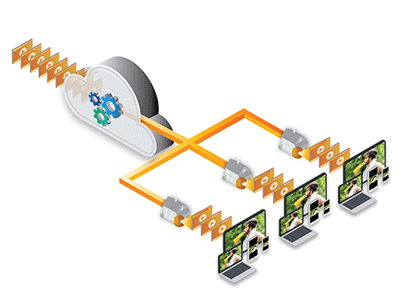 Multicast ABR allows Pay TV providers to use standard subscriber devices for ABR streaming in the home but still leverage the bandwidth efficiencies of IP multicast over the operator network for the delivery of streaming content.
The Multicast Adaptive Bitrate solution dramatically reduces bandwidth required for Linear / Live TV compared to unicast.
Network Optimization
Reduces Access Network equipment investment, CDN costs, and exposure to peak traffic spikes
High-Quality Video Delivery
Leverages proven multicast technology over managed networks
Improves reliability and user experience, especially for high resolution video (4K, HD)
Seamless Integration
Solution is transparent to end-user device
No changes required to home devices (STBs, PCs, laptops, tablets, mobile phones)
Scalability
Built for scale with cloud, data center and on-premise options
Efficiently supports millions of home subscribers
Flexible Deployment
Multiple options across the cloud, operator network and within the home
Optimized to fit existing operator network deployments and CPE strategy
Green / Sustainability
Reduces processing power needed to delivery scalable video
Minimizes power, cooling, space costs and lessens carbon footprint
Specifications
Product Classification
| | |
| --- | --- |
| Regional Availability | Asia | Australia/New Zealand | EMEA | Latin America | North America |
| Product Type | Video compression & processing system |
Product Classification
| | |
| --- | --- |
| Regional Availability | Asia | Australia/New Zealand | EMEA | Latin America | North America |
| Product Type | Video compression & processing system |
Documentation & Downloads
Product Compliance Documentation
Warranty
Product Compliance Documentation
Warranty