CommScope Anti Counterfeit Hologram
Don't accept less than CommScope's best
Validate your solutions to verify genuine CommScope quality!
Counterfeit products are a problem—but they don't have to be YOUR problem.
CommScope is a trusted global provider of high-performance network infrastructure solutions. Counterfeiters try to exploit our reputation by illegally selling counterfeit products that do not deliver the same performance or reliability.
Protect your network by verifying you're using genuine CommScope solutions.
The risks of using counterfeit solutions go far beyond simply reduced performance. For example, counterfeiters are known to use cheap alloy or aluminum instead of copper, which can seriously degrade network performance. They can also use materials in jackets and connectors that don't meet CMP (communication multipurpose cable, plenum), CMR (communication multipurpose cable, riser), CM (horizontal cable) and LSZH (low smoke zero halogen) flammability requirements. This not only puts safety and property at risk—knowingly using noncompliant counterfeit solutions could violate building codes or be considered negligence or fraud.
CommScope has zero tolerance for counterfeiters.
To ensure every customer gets nothing but CommScope's best performance and quality, we make it easy for you to check the authenticity of your CommScope solutions.
Scan and be certain.
Each package features a security hologram and scannable QR code that can verify the authenticity of your product in seconds. Just scan the QR code with the "CheckifReal" App from any smart device for instant confirmation.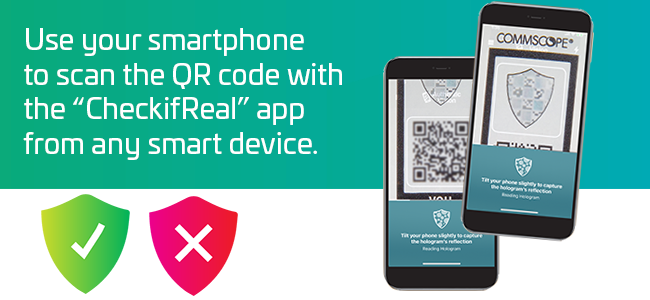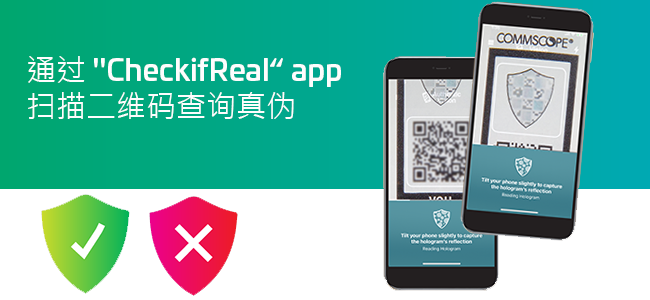 You trust CommScope quality. Make sure that's what you're getting.
Scan your CommScope solutions and be sure your network is getting the performance and reliability your network requires. It only takes a few seconds to be secure in the knowledge that you're installing our best.