CommScope Celebrates 40 Years
There were no cell phones, laptops, or automated teller machines in 1976, but there were still plenty of technological marvels. One was the debut of the Concorde, a supersonic jet that cut transatlantic flying time to just 3.5 hours. That same year in Hickory, North Carolina—with not quite as much fanfare as the Concorde launch—there was another marvel in the making: Frank Drendel and Jearld Leonhardt had started CommScope as an independent company. That first year the company produced about $14 million in sales. Forty years have passed and today CommScope is a multi-billion dollar global enterprise—a leader and innovator in the communication infrastructure industry.
CommScope Celebrates at Nasdaq
In recognition of the company's 40th anniversary, some of our top patent holders and employees with 40 or more years of service were honored with a trip to New York City. They took center stage at the opening bell ceremony at the Nasdaq Marketsite in New York's Times Square on August 10, 2016. They looked on as Frank Drendel, chairman of the board and co-founder, and Eddie Edwards, president and chief executive officer, rang the bell to officially open trading at Nasdaq Stock Exchange. CommScope is one of the 3,600 companies that list on the Nasdaq Stock Exchange. This event is one of many the company has planned to mark its 40th anniversary

Top 40 innovations unveiled!
What better way to celebrate four fabulous decades than to pay tribute to the 40 best and most impactful innovations that have come from CommScope or one of its acquired companies? In 2016, we asked employees to submit recommendations for CommScope's Top 40 Innovations. We hope you enjoy looking back at what we think are our top innovations—ones that have helped build the world's infrastructure of today and tomorrow. All the Top 40 Innovations were revealed on the CommScope blog page.

A Tribute to CommScope's Top Patent Holders
In conjunction with its 40th anniversary, CommScope proudly honors its engineers, technicians and other innovators whose patented designs have helped the company become and remain a technology leader. The following employees are CommScope's top patent holders who are being recognized for always wanting to improve, innovate and ask, "What if…?"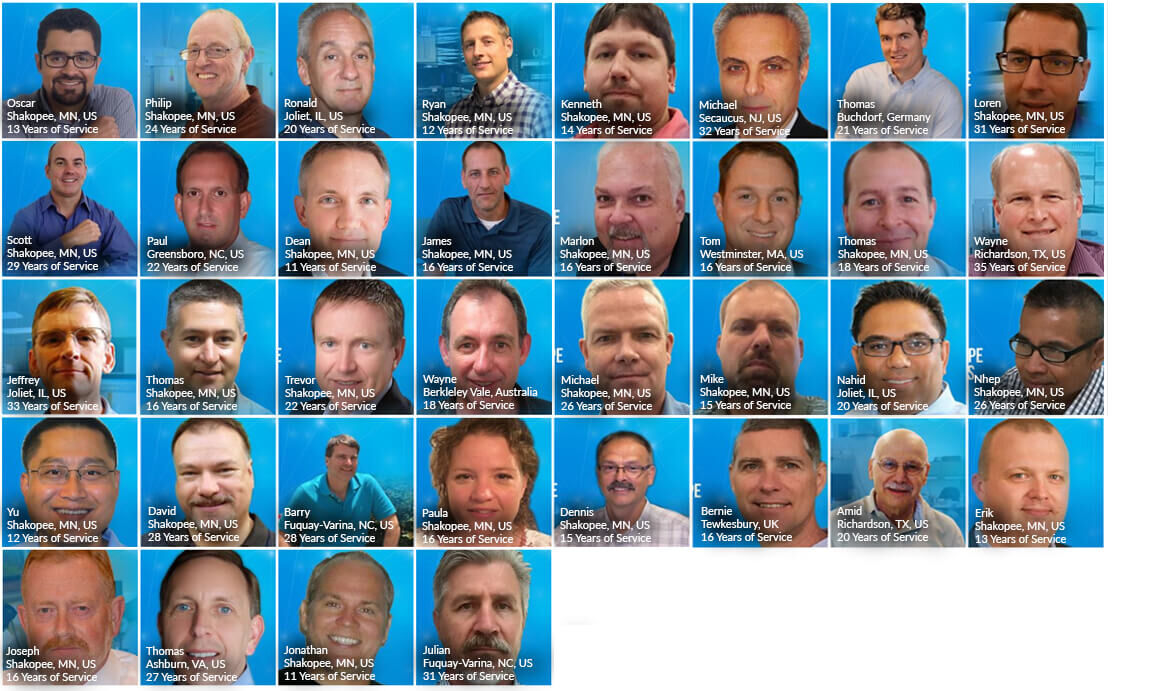 Founded in 1976, CommScope has a history that reaches back decades earlier by virtue of its origin as a product line within Superior Cable Corporation and the transformational acquisitions of Avaya's Connectivity Solutions (SYSTIMAX®) and Andrew Corporation. Over time, the company has evolved from its founding as a cable manufacturer to become a global, diversified provider of broadband, enterprise and wireless infrastructure solutions.

Honoring Employees with 40+ Years of Service
As CommScope celebrates its 40th anniversary, the entire team recognizes all of the long serving employees with 40 years or more of service. Your dedication, loyalty, hard work and innovative spirit have helped to make this a great company. Thank you!
Patricia Reding, 46 years, Omaha, Nebraska
Cheryl Anderson, 44 years, Shakopee, Minnesota
Harold Edwards*, 44 years, Catawba, North Carolina
Gary Bingham, 43 years, Greensboro, North Carolina
Terry Williams, 43 years, Greensboro, North Carolina
Kenneth Hamen, 41 years, Wesley Chapel, Florida
William Herd, 41 years, Lochgelly, Scotland
Amandus Pieck, 40 years, Kessel-Lo, Belgium
Bruce Hughes, 40 years, Lochgelly, Scotland
Gabriele Riva, 40 years, Agrate, Italy
Alen Koontz, 40 years, Greensboro, North Carolina
Jean Gay*, 40 years, Hickory, North Carolina
Marcus Craver, 40 years, Greensboro, North Carolina
Barbara Coe, 40 years, Omaha, Nebraska
Mary Willocks, 40 years, Shakopee, Minnesota
Louis Meyer, 40 years, Richardson, Texas
* Member of the original team of employees with CommScope when it was founded.

Can't Do the Math? You may wonder how some of these employees have more years of service than CommScope has been in existence. The reason is simple. Their years of service carried over from Superior Cable or an acquired company.