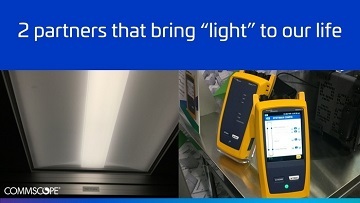 I overheard someone at BICSI Winter tell one of our people in the booth, "when CommScope says something, people listen." Naturally that made me proud as a communications manager; however, it also cemented a great point – when our *partners* talk, people listen as well. That's why great alliances are important to us.
Case in point: we announced at BICSI that our SYSTIMAX link loss calculator is on Fluke Networks' CertiFiber Pro optical loss test sets. It's a great way for field crews to ensure fibers are performing the way they should.
We're also working with Philips Lighting for "smart lights" over our power over Ethernet services. It really makes you think: what are your lights doing in your building? How are they "reading the room," so to speak, to give you important data?
CLICK TO TWEET: CommScope partners talk PoE, smart lights and fiber testing.
Check out the video below where we talk about what we're doing with Fluke Networks and Philips Lighting. It's all about making the work easier in the field and getting our customers what they need.