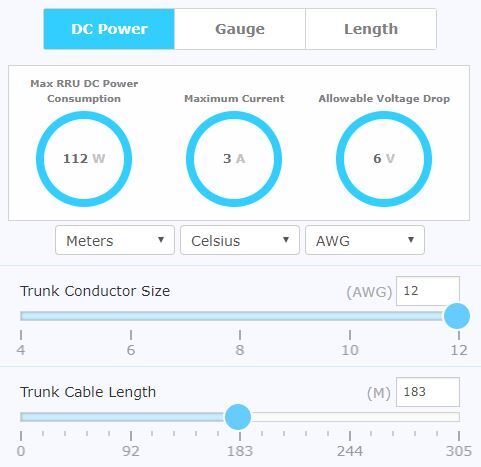 At CommScope, we are always trying to make things easier for the customer. For example, we launched FTTA PowerCalc back in March to help customers choose the right sized power cable for their fiber-to-the-antenna deployments. Thanks to customer feedback, we have made some updates to the tool. If you are not familiar with the FTTA PowerCalc, let me introduce you.
FTTA PowerCalc is a web-based calculator that provides a fast and easy way for choosing power cables based on radio power requirements, power trunk and power jumper conductor size, and trunk cable length. Users can enter information into the tool in order to select the appropriate cable for their needs.
CLICK TO TWEET: Learn what's new with CommScope's PowerCalc tool.
Using the PowerCalc, customers can get answers to questions such as:
Based on RRU power or voltage drop allowance, how long can your power trunk be?
Based on your known power trunk and power jumper lengths, what gauge cable can be used?
How much DC power consumption can your RRU and power cables handle together?
PowerCalc users can easily input answers with on-screen toggles or by manually entering values. When changing any of the values, PowerCalc automatically updates the other two modes, making it easy to switch between modes without losing your choices. Because the calculator is web-based, it is always on and always available on your computer, phone or tablet. It is easy to manage updates because they are done immediately without sending a static spreadsheet. Customers always have the updated version.
Based on valuable customer feedback, we made two useful updates to the tool. When you reach/exceed a voltage drop of 15V, the FTTA PowerCalc warns you in red that your choices are risking RRU battery backup failure and RRU drop-out. You can also print a summary of your choices to PDF along with a text box where you can enter any information you need: your name, the site name, sector, etc. Don't just take my word for it; try it for yourself!