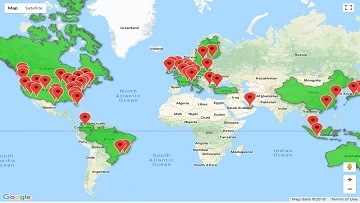 We announced the creation of our MTDC (Multi Tenant Data Center) Alliance a year ago. While it seems like just yesterday, so much has happened in that time. We've added an advisory board and new members, all in the name of being a resource for the industry. Input from our advisory board also helped CommScope create the MTDC Best Practices guide and the "Fast, Faster, Fastest" MTDC expedited delivery program. And our latest endeavor – our partner locator – an easy way to find an MTDC anywhere in the world.
Here's what I love about it:
You have the whole world in front of you. Target a geographic region where you need to deploy your assets to support that market, and you're likely to find one of our MTDC partners. And the locator will consistently be updated.
Once you find a partner, you'll see how much total space it has to determine if it's the right partner for you.
One click, and you can contact them directly.
CLICK TO TWEET: Find an MTDC anywhere in the world with the new CommScope partner locator.
It's conveniences like this that make our Alliance (part of our PartnerPRO Network) stand out. In a time when more enterprises are using multi-tenant space rather than building their own, it's important to know which ones are available. 451 Research says total square footage of global MTDCs is expected to grow to 177 million by the end of the year, so our locator helps navigate all of that space.
Check out our locator, and look at the video below for even more context.