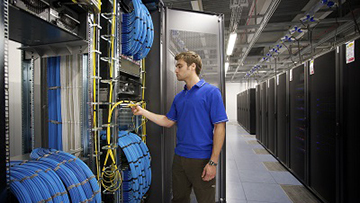 (Note: The following has been submitted as a guest post to CommScope Blogs by Craig Thomasmeyer, executive vice president at Miller Information Systems, a member of CommScope's PartnerPRO Network and provider of IT networking solutions in Pittsburgh, PA, Cleveland, OH and Columbus, OH areas. Opinions and comments provided in this guest post, as with all posts to CommScope Blogs, are that of the author and do not necessarily reflect the views of CommScope.)
Business 101 for trusted contractors is knowing what your client wants and why you are calling them. Do they have a need or a problem to solve? You can solve it, but make sure you solve it in order. That is the first step. Let me explain.
CLICK TO TWEET: Read Part 1 of this blog series on being a successful trusted contractor from Miller Information Systems.
Order and Sequence: It Matters
For design builds of technology systems, identifying the problem and knowing where your client is in this sequence is important. I once met with a potential client to deploy a network architecture in his new factory. The company required data networking on its production line.
If the factory owner needs data collection points on the network for management to see immediately, the client needs to know what to do – and how to do it (the problem). A problem does not solve itself. Work the problem in order and in sequence.
Problem Identified: Now It's Time to Sequence the Solution
This client has no prints or plans to follow. He has nothing more than an idea of what needs to be accomplished. This is common in our profession. These types of clients need IT help fast, and this is where a trusted contractor comes in to play. Once the problem is identified, the next unknown is critical—price.
The client needs to know how much this is going to cost, so he or she can go to management and say, "This is the problem, and this is what it costs to fix it." The sequence matters, and providing the amount gets your client one step closer to approval.
If you start asking – at this point – minor details like whether they want a blue or white cable, or a black or grey data cabinet, you are missing the sequence.
The next decision must get your client to perform a cost-to-benefit analysis. This step is important. Proper capital allocation is dependent on this information.
For example, let's look at a bicycle lock. If you need to secure your bicycle from theft (problem), then you purchase a bicycle lock (solution). Would you purchase a lock that costs $100 for a bicycle you bought online for $40? You get the picture of cost-to-benefit analysis. The equation is Benefit > Cost. It's simple, but important.
So, Where Are We Now?—Sequence
Get your client the cost-to-benefit analysis sooner rather than later. Don't let details hold you up. Build confidence that you can solve the problem, and then you deliver.
You must include assumptions as needed to get to the proposal. You must be fair and reasonable in those assumptions. Make sure you disclose this in your proposal; however, don't get bogged down in details at this point.
Sequence matters. Cost-to-benefit analysis is very important. This leads to the second step of a three-step process - technical review and detailed solution. I will highlight this in part two of my blog series.