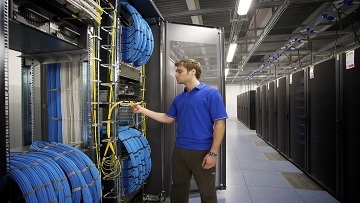 (Note: The following has been submitted as a guest post to CommScope Blogs by Craig Thomasmeyer, executive vice president at Miller Information Systems, a member of CommScope's PartnerPRO Network and provider of IT networking solutions in the Pittsburgh, PA, Cleveland, OH and Columbus, OH areas.Opinions and comments provided in this guest post, as with all posts to CommScope Blogs, are that of the author and do not necessarily reflect the views of CommScope.)
Business 101 for trusted contractors is knowing what your client wants, and why you are calling them. Do they have a need or a problem to solve? You can solve the problem, but make sure you do so in the right order. I explained why the sequence matters and builds a relationship with the client as a trusted contractor in part 1 of this blog series.
CLICK TO TWEET: Read part 2 of Craig Thomasmeyer's blog series: 3 steps to success as a trusted contractor.
The first step is a cost-benefit analysis and getting your client a cost (proposal) so that their management can perform the benefit > cost equation. In this blog, I explain the second step. Suppose the client returns to ask for further details and a technical design to confirm that your proposal is going to work and solve their problem or data technology need. For trusted contractors and especially premier members of CommScope's PartnerPRO Network, this is an easy step, but one that cannot be taken lightly.
Check your performance and reliability boxes
Be sure to get engineers and project managers involved and use the resources available on CommScope's website such as white papers and technical data sheets. These are necessary because it will help you meet your client's needs.
Keep the salesman away
I've often said to clients, "Technology is a balance between performance and budget," to help them understand that we can deliver tremendous speed to their data network, especially if the budget is unlimited. We all know that such budgets are rarely available. We usually need to balance the budget and the best performance that we can offer within that budget. Assure the clients that as a trusted contractor you can meet the technical details of their data requirements.
This can take the form of reviewing what cabling best fits their needs:
Single mode vs multi-mode
OM3 vs OM4 fiber optic cable
This is also the time to find out if the color of the cable matters, how that impacts the price and whether that color is in stock.
Now, you should confirm the installation schedule and completion dates. You might find out that weekend work is required for certain production lines. That's when you need to win the support of factory floor managers. Work this step as if you have the order, finalizing all parts and scheduling for start and end dates.
Some modification to your proposal may be necessary. A pricing change is not a deal breaker, so get it in there now. Tell the client you want to avoid change orders if possible.
The technical review time can also result in additions to the Statement of Work and added investment value as other departments ask for more work. This is a good thing.
This technical review step can often take longer than the first step of initial proposal. Embrace this, because you are building a relationship with your client and your role as a trusted partner.
In my next blog, I will explain step three – order received.