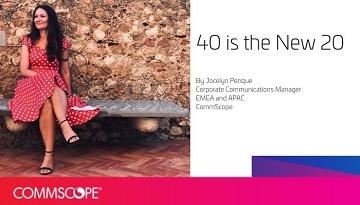 Everyone seems to have a good quote for this birthday. When my parents turned 40, we called them "over the hill," but that phrase seems 'old school' in 2018.
Does Gen Z send homemade birthday cards?
One thing I love about being born in the late 1970s is that I know what life was like with no Internet or smartphones. I wrote 2-3-page letters to my long-distance pen pals, knew my best friend's number by heart and actually spent hours researching amoebae in the "A" book of our encyclopaedia. I remember being mortified when Dad answered the family landline after 10:00 PM to remind male suitors it was too late for a phone call – oh the '90s!
I assume I'm not the only one who is nostalgic for the pre-Internet days. That's why I still adore handwritten thank you cards, friends who call 'just to chat' and browsing used books in independent stores.
CLICK TO TWEET: CommScope's Jocelyn Penque explains why 40 is the new 20.
A Walking Contradiction
Yet despite longing for the 'way things used to be,' there are plenty of similarities between the mobile-first generation and me. I have five connected devices, love learning about what makes the Internet work and surround myself with fibre optic engineers and tech pioneers. Facebook and WhatsApp connect me to family and friends in Singapore, Australia, France and Texas while I follow Pilates and yoga instructors in online classrooms.
My friends find it odd how excited I become when spotting a base station antenna or cabinet in the street. Tech geek might be an understatement.
How can we stay human in the digital age?
Building on a passion for emerging technology, I recently hosted a Facebook Live with Marine Tanguy, founder of MTArt and Forbes' 30 under 30, Jasmine Pradissitto, an artist who is inspired by scientific breakthroughs and Bernadine Bröcker Wieder the founder of Vastari.
We focused on the topic, "Can Intelligent Machines Match Human Creativity?" where I asked these inspirational leaders if art should aspire to virtual perfection or engage the realities of human condition. After a thought provoking discussion, we seemed to agree that technology and human creativity should be mutually beneficial.
As I celebrate the big 4-0, I am excited for what lies ahead. I guess you could call me a seasoned 20 something who has a lot to learn.