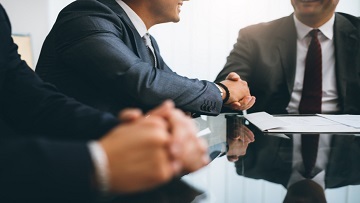 Last year, I confessed my penchant for great bargains. Staying with the theme of full disclosure, I thought I'd share my personal thoughts on partnerships. The term "partner," especially in business, is often overused or misused, causing ambiguity and diminishing its value. But partnerships are more important than ever in this hyper-change, interconnected era.
Partnerships can take many forms but they all need certain elements to be successful. I have my own formula for successful partnerships:
Common Goals + Shared Values + Execution of Individual Responsibilities = Mutual Success
To me, the most essential partnership variable is individual responsibilities – the things we do when we're not together.
CLICK TO TWEET: A Formula for Partnerships: Common Goals + Shared Values + Execution of Individual Responsibilities = Mutual Success
As a manufacturer, CommScope relies heavily on distribution and installation partners all over the globe to deliver our high performance wired and wireless solutions. These are our core partners; our mutual success is highly dependent on one another's execution of individual responsibilities (the things we do when we're not together). CommScope is a pioneer in structured cabling training and certification partner programs, and our PartnerPRO Network is the most respected and rigorous program in our industry.
Another type of partner critical to our business is technology ecosystem partners. These are typically manufacturers of products that connect to our structured cabling and wireless systems. We're interdependent on one another but don't typically engage in the same way we engage with our installation and distribution partners. Meaning, we don't typically "train and certify" technology ecosystem partners.
Individual responsibility is critical for ecosystem partnerships. What we're doing when we're not together can have serious implications for us, the industry and our customers. What makes our ecosystem partnerships work isn't a program or a feature, it's our execution of individual responsibilities.
As market leaders in our respective industries, it's so important that we and our partners deliver innovation, thought leadership and market education in addition to great products. Sometimes we do that together through joint educational webinars or in a laboratory environment like our Power over Ethernet testing lab. Our PoE laboratory located in Greensboro, NC is our test laboratory where we are working with leading manufacturers of end point technologies that are powered by PoE and other remote power technologies. The laboratory provides a real-world environment to test the cumulative impacts of using structured cabling for power and data applications.
Other times we work together as individual contributors on standards development committees. I believe that's some of the most important work we do together, apart, because it paves the way for new technology that will improve our lives. It's the work that takes what's technically possible and makes it real-world deployable. Involvement in the standards bodies is on a volunteer basis and many of our ecosystem partners dedicate significant time and human capital to several different standards organizations globally.
CommScope and our ecosystem partners take individual responsibility for the advancement of technology that improves our lives. Common goals and shared values bring us together, but it's the execution of our individual responsibilities that distinguishes our successful partnerships. Below are links to some of our work with Enterprise Networks partners. Check out our PartnerPRO Network to find one of our many partners.
Additional Resources: