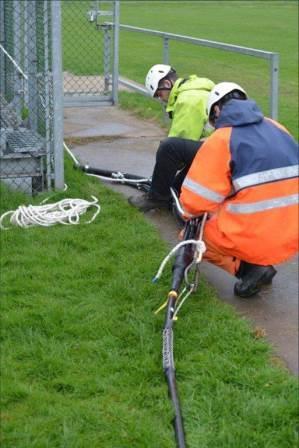 Attending my first National Association of Tower Erectors (NATE) show this year, I appreciated the good turn-out and friendly atmosphere. In an industry noted for getting things done, I was impressed by the focus on safety. Many vendors were showcasing the latest harnesses, safety clamps, and hard-hats—all of which appeared to be protective, comfortable and cool-looking to wear.
The focus on safety had me thinking about how we promote safety at CommScope, particularly in my area of fiber-to-the-antenna (FTTA) and traditional feeder solutions. Our feeder products work as a whole solution, where it is as important to use the correct accessories as it is to use the best quality feeder cables. Make sure you are thinking about cabling from a "systems" perspective.
Use hangers designed and tested for the feeder cables being deployed. Don't just match the diameter of the hanger with that of the cable; verify that the weight of the cable can be properly supported over its lifetime. Hangers are typically spaced three to four feet (about one meter) apart to provide frequent support up the entire height of the tower.
Use the manufacturer's recommended grounding kit, which will ensure compatibility with the feeder cable being deployed. Grounding kits can vary in metal composition and may not provide the proper grounding to the armor (which could be steel, aluminum or copper) of the feeder cable. Grounding is typically installed on both ends of the feeder cable, with an extra intermediate point added for runs over 200 feet (60 meters).
For trunked power and hybrid FTTA cables, which can be heavier than individual traditional feeder designs, permanently secure the cable at the top of the tower with the hoisting grip in addition to using hangers to provide an extra measure of safety over time.
An overall safety goal should be to avoid substandard materials that may not meet the performance required in the wireless space. Substandard products may not hold up long-term, providing an opportunity for failure, especially under harsh conditions. Trying to cut corners and costs in this way isn't worth the safety risk.
I think those are the main things you need to know when it comes to safety for FTTA and coaxial feeder cabling. Any questions?