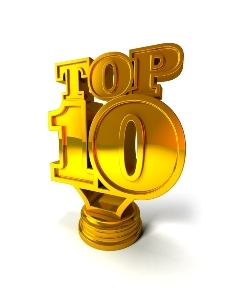 Editor's Note: As we say good-bye to 2014, we look back at some of our most shared blogs of the year. We covered a wide range of network infrastructure topics and we hope you enjoy revisiting some of these popular posts. This blog first appeared on June 30, 2014.
Did you know that the first Category 6A/Class
EA
solution launched 10 years ago? Initial adoption was primarily focused on data centers. Today, Category 6A is growing at an increasing pace − fueled mainly by deployments in buildings. Here are my top 10 reasons
to install Category 6A in the building.
10: Category 6A is recommended for new installations in healthcare facilities.
Published in 2010, TIA-1179 recommends Category 6A for all new installations in healthcare facilities and is the first standard to recommend Category 6A for new installations outside of the data center. To help better understand the TIA-1179 standard, CommScope published this FAQ document.
9: Category 6A is recommended for new installations in educational facilities.
Recently published, TIA-4966 recommends Category 6A for new education facilities based on the need for high-performance infrastructure required for wired and wireless connectivity. To help you better understand the TIA-4966 standard, CommScope published this FAQ document.
8: Category 6A supports 10GBASE-T to 100 meters.
Category 6A's support of 10GBASE-T to 100 meters ensures it can support the fastest Ethernet application on the market to the full channel length specified in the standards. This comes at a time when high performance workstations are beginning to demand 10 gigabit performance.
7: 10GBASE-T continues to achieve improved price performance and lower power consumption.
Dramatic improvements to 10GBASE-T over the last few years result in significantly lower overall price and power efficiency per gigabit than 1000BASE-T. It looks like the old industry saying, "Today's server is tomorrow's desktop," may be applicable to 10GBASE-T.
6: Category 6A provides enhanced performance for Power over Ethernet (PoE) applications.
At a time when the PoE standards are updated to double the power delivered to devices utilizing all four pairs in the cable, Category 6A offers enhanced thermal dissipation performance over its Category 5e and Category 6 predecessors. Recently, CommScope published a white paper on Category 6A advantages for PoE.
5: Category 6A supports new in-building wireless systems that rely on 10G technology.
Contrary to popular belief, wireless needs wires. New in-building wireless systems relying on 10GBASE-T LAN technology and remote powering over Category 6A that support multi-operator and multi-technology coverage and capacity solutions in buildings are already in the market.
4: Category 6A supports Wi-Fi technologies already exceeding 1 Gbps in the horizontal.
More wiring for wireless is required for Wi-Fi. 802.11ac systems already in the market sport dual gigabit ports for link aggregation and peak rates that may exceed a gigabit. As Wave 2 of 802.11ac enters the market, industry insiders are already planning for higher speed ports. Category 6A is the ideal choice to support the evolution of Wi-Fi and its expected need for increasing backhaul bandwidth.
3: Category 6A is globally available in unshielded and shielded versions.
The debate about the virtues of unshielded and shielded solutions will continue. Category 6A allows both, while customers continue to speak with their wallets in favor of the more familiar, and easier to install, unshielded solutions.
2: Category 6A supports the familiar and backwards compatible RJ45 user interface.
Category 6A supports the tried and true, familiar, and backwards compatible RJ45 interface. The RJ45 demonstrated the power of standardization, has enabled the global growth of Ethernet as we know it, and has become a universal interface for a broad range of applications. More than two billion outlets have been produced with RJ45 − enough to circle the earth twice. Be sure to check out the CommScope infographic on the RJ45.
And the number 1 reason: Category 6A offers simple and cost-effective provisioning to support current and emerging applications.
Category 6A offers the most cost-effective and simple provisioning to prepare today's buildings for current and future applications. With 10 gigabit applications starting to emerge, the time is right to consider provisioning the building with the right copper cabling infrastructure based on Category 6A twisted pair connectivity.
What other reasons can you think of that are driving Category 6A adoptions in buildings? Do you have your own top 10 list? Let me know in the comments section below.