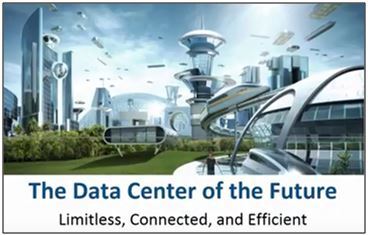 Editor's Note: As we say good-bye to 2016, we look back at some of our most shared blogs of the year. We covered a wide range of network infrastructure topics, and we hope you enjoy revisiting some of these popular posts. This blog appeared on August 1, 2016, as a second post about the data center of the future (see Part One). It is a post by guest blogger Jennifer Sweeper, partner marketing manager at Digital Realty. The opinions and comments provided in this guest post, as with all posts to CommScope Blogs, are that of the author and do not necessarily reflect the views of CommScope.
When you operate a global internet enterprise company, the last thing you need is a data center outage. The very last thing you need is two outages in just three months. That's exactly what happened to the internet company's data center provider that wasn't equipped for a big data surge.
A 2013 Gartner study says big data is expected to grow 800 percent in the next few years, data centers like these need to be ready. And many are not. We have connected lifestyles, and the Internet of Things (IoT) will only get bigger than it is now.
CommScope's Kam Patel pointed out in part 1 of this blog series that data centers of the future need several attributes to survive; among them – speed, agility and intelligence. Those are traits that the internet company's provider didn't have. They knew something needed to change.
First, the internet company expanded its sole colocation to two major multi-megawatt deployments, and is already looking at expanding into more international locations. The new, flexible design was done in a phased approach, allowing the internet company to turn up capacity and meet short-term demand, while building the core infrastructure for long-term growth. Finally, the internet company improved their network deployment and pre-built cabling structure to speed delivery.
It worked, and this particular company is well on its way to enhancing its data center capability. In general, data centers are in a constant state of flux, and it's important to know how to improve them, and also the ramifications if you don't.
That's where CommScope, Digital Realty and Align Communications come in. Digital Realty hosted a panel at its Ashburn, VA, campus in May focused on speed, agility, intelligence, global scale and cloud.
"The panel provided an opportunity to hear from a diverse panel of industry experts from Digital Realty, the leading data center provider; Align Communications, leading implementation experts and CommScope, the premier provider of structured cable solutions, as they discussed how the industry is adapting to end-user demands to help deploy future IT workloads," said Bill Bradley, senior vice president, Partners & Alliances at Digital Realty.
An opportunity to listen to the insightful webinar can be found here. Learn what's driving the explosions in bandwidth, IoT and mobile and understand the implications of this increased demand on today's data center.