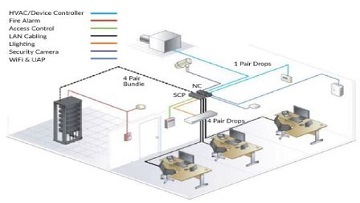 Editor's Note: As we say good-bye to 2017, we look back at some of our most shared blogs of the year. We covered a wide range of network infrastructure topics, and we hope you enjoy revisiting some of these popular posts. This blog first appeared on July 27, 2017.
When a new copper or fiber cabling technology is developed, it's only natural to assume it was designed to carry higher speeds in support of the seemingly endless need for more bandwidth. While that is usually a safe assumption, there are instances where new media types are developed to provide more cost-effective transport for lower speed applications.
Such is the case with the activities around single pair Ethernet applications standards. This is certainly not a new topic, as this technology has been standardized and is in use in the automotive industry and in several industrial applications.
CLICK TO TWEET: Masood Shariff blogs about single balanced twisted-pair cabling infrastructure for IoT and M2M connectivity.
However, with the tremendous growth of the Internet of Things (IoT) and the need to provide cost-effective power, connectivity and security to the billions of edge devices that will be deployed over the next decade, single pair Ethernet has emerged as a very promising technology. Because the bulk of IoT devices being deployed do not require nearly as much bandwidth and power as a typical application using traditional 4-pair cabling, single-pair Ethernet promises to provide a more compact and economical solution.
Ethernet has enjoyed resounding success as it enters its sixth decade, as the opportunity to standardize on one protocol for the data link layer provides great benefit. With the addition of more cost-effective means of connecting IoT devices, its success will continue in the form of single pair Ethernet.
To learn more about the single pair Ethernet activities to date as well as the latest standard in process, IEEE 802.3cg 10 Mb/s Single Twisted Pair Ethernet, download this new whitepaper, "Single balanced twisted-pair cabling infrastructure for IoT and M2M connectivity." Leave a comment with any questions.