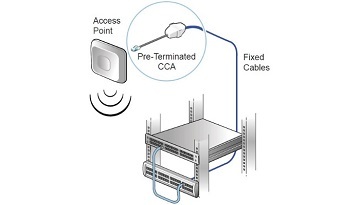 Editor's Note: As we say good-bye to 2018, we look back at some of our most shared blogs of the year. We covered a wide range of network infrastructure topics, and we hope you enjoy revisiting some of these popular posts. This blog first appeared on October 8, 2018.
Today's intelligent buildings have some of the latest technology deployed inside, which is causing ICT designers to re-consider traditional installation practices. For example, previously, the majority of network computing devices were in offices or equipment rooms, with the horizontal cabling terminating at an equipment outlet or panel – with devices connected via a conventional patch lead. With the mass proliferation of IoT sensors/devices and other advanced technologies, we are increasingly seeing devices placed at high levels, such as in ceiling voids, which requires a more contemporary approach to their management and connectivity.
CLICK TO TWEET: CommScope's Ashley Martin takes a look back at 2018 and explains the definition of MPTL.
A new way to connect in modern buildings
To help eliminate complexity and reduce security risks, we are increasingly seeing devices such as surveillance cameras connect directly onto the horizontal cabling using an RJ45 modular plug. This is known as the Modular Plug Terminated Link (MPTL) method, and it simplifies connectivity into such devices by taking out the need for a separate patch cord. The MPTL enables the cable to be plugged directly into a device, so it can be connected to a network without installing an additional outlet; which has many installation and user advantages. Notably, by eliminating the extra connection points introduced by outlets and patch cords, network operators are seeing the benefits of rapid device deployment, improved power performance and enhanced security.
Ensuring compliance and error-free operation
In 2018, the MPTL was approved under the TIA 568.2-D standard. However, to ensure that link is installed and deployed correctly, the standards specify strict limitations to its use and define a new and comprehensive testing criterion. In addition, fitting RJ45 plugs directly to horizontal cabling in the field has always been both difficult and time-consuming, especially when higher frequency and higher bandwidth cabling solutions (such as Category 6A) are deployed. This intricate connectivity process has historically been carried out under factory conditions, to ensure performance and quality of termination. Although some manufacturers have produced an RJ45 plug for use and termination in the field, CommScope does not endorse such an approach due to the complexity and margin for error/failure; especially when at high level or in confined installation environments. However, recognizing the need for a MPTL solution, Commscope designed and developed the Ceiling Connector Assembly (CCA) to offer a simplified connectivity process that ensured quality and offered customers both security and flexibility.
Advantages of the CCA for a MPTL deployment
The CCA uses a factory terminated plug and IDC connection point, which allows the termination of the horizontal cable via a fast, tool-free, installation method. In summary, the CCA helps ensure the performance and integrity of the link by simplifying the termination even under difficult conditions. This not only reduces the risk of installation issues or latent defects, but also eliminates the need for any specialized testing.